Ermete Novelli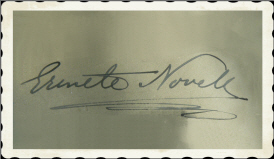 1851 - 1919
.
.
The actor Ermete Novelli began his stage career at young age and he made his theater debut in 1866.

From 1871 Ermete Novelli became a popular stage actor who took part in classic plays as well as comedies.

He founded his own theater company in 1885 and was successful outside Italy too, among others in Paris.

He founded the theater "Casa di Goldoni" in 1900 which oriented itself by the Comédie Française. He also began to adapt plays from other authors, beside it he also wrote own comedy plays.

In the new arising film business in Italy Ermete Novelli participated in it too. To his first cinematical appearances - where the actress was his film partner in each case - belong "La morte civile" (10), as King Lear "Re Lear" (10) and aas Shylock "Il mercante di Venezia" (11).

Afterwards followed movies like "Michele Perrin" (13) in which he impersonated the title role, "La gerla di papa Martin" (14), "Il piu grande amore" (15), "Per la Patria!" (15) and "Automartirio" (17).

His last movie was "La morte che assolve" (18), one year later Ermete Novelli died at the age of 67.

His son Enrico Novelli became a movie director.