Doris Keane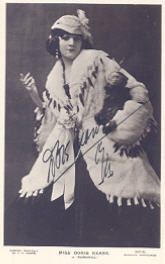 1881 - 1945
.
.
The actress Doris Keane began her stage career in the USA before she went to London in 1907 where she continued her career successfully.
She had some of her great triumphes with "Romance" (15) as well as Juliet in "Romeo and Juliet" (19), both at her husband Basil Sydney's side.
She made her only film appearance in the filming of the play "Romance" (20), together with her husband.

Afterwards she acted again exclusively on stage, among them was the huge success "Czarina" (22).