August Weigert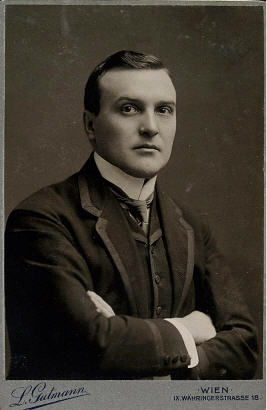 Foto: Ludwig Gutmann (1869-1943)


1877 - 1953
.
.
The actor and director August Weigert already took part in first movies from 1914, among them "Bergmacht" (14), "Gretchen Wendland" (14) and "Das Tal des Traumes" (14).

He continued his film career in the next years and he impersonated roles in the productions "Die Stadt ohne Lachen" (18), "Die von Gottes Gnaden" (19), "Siegerin Weib" (19) and "Bergschrecken" (19).

His last appearances in front of the camera came in the 20s into being with "Die Irre von Schloss Ihöringhuus" (21) and "Das Geheimnis von Genf" (28).

August Weigert also directed some movies from 1920.
To these works belong "Das schwarze Amulett" (20), "El Verdugo" (20), "Die Irre von Schloss Ihörringhuus" (21), "Ein Fest auf Hedervlevhuus" (21), "Der Mann mit dem schlechten Gewissen" (21) and "Der Letzte vom Bärenhof" (21).