Maria Waldner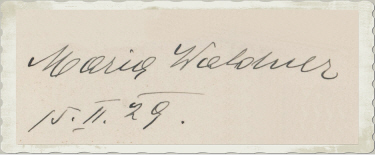 1895 - 1976
.
.
The actress Maria Waldner impersonated her first film role as Amalia in Otto Preminger's "Die grosse Liebe" (31) with Attila Hörbiger, Hansi Niese, Betty Bird, Hugo Thimig and Ferdinand Mayerhofer.

In the next years followed other support roles in the productions "Dschainah, das Mädchen aus dem Tanzhaus" (35) as Madame Hortense Cliquot with Rosy Barsony and Annemarie Sörensen, as Mrs. Eberhart in E.W. Emo's "13 Stühle" (38) at the side of Heinz Rühmann, Hans Moser, Annie Rosar, Inge List, Hedwig Bleibtreu and Rudolf Carl and playing the role of Mrs. Kneitlinger in "Der gebieterische Ruf" (44) directed by Gustav Ucicky with Rudolf Forster, Maria Holst, Paul Hubschmid, Frida Richard and Heinz Moog.

She continued her film career after the war with few more roles. To these works belong "Schicksal am Lenkrad" (54) with Harry Fuss, Richard Eybner and Bert Fortell as well as the TV production "Das vierte Gebot" (64) as Herwig with Harry Fuss, Veit Relin, Erika Pluhar and Bruno Dallansky and an episode of the serial "Wenn der Vater mit dem Sohne: Happy-End" (71) where she played Margit's mother. To her co-stars belonged Fritz Eckhardt, Peter Weck and Marianne Schönauer.