Karl Gustav Vollmöller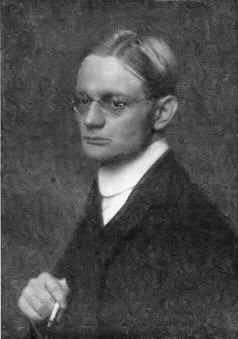 Foto: Nicola Perscheid (1864-1930)

1878 - 1948
.
.
The versatile Karl Gustav Vollmöller was not only an author and screenwriter but he was also active as an aircraft designer, archaeologist and politican beides other jobs.

He was born into a wealthy family. His father presided over one of the biggest textile enterprise in Europe and his mother campaigned for the equal rights for women.

Karl Vollmöller wrote and published his first poems in the middle of the 1890s, beside it he studied art and painting as well as the classics.

After his education he wrote poems for the journals "Simpllicissimus" and "Pan" besides other publications.
He published his first novel in 1897 with "Die Sturm- und Drangperiode und der moderne Realismus". At the beginnig of the 20th century followed other novels with "Parcival - Die frühen Gärten" (02) and "Catherina, Gräfin von Armagnac" (03).
At this time he was also active as an archaeologist in Greece where he worked together with Wilhelm Dörpfeld among others.

The technical progress fascinated Karl Vollmöller similarly to the literature. He already was active as an automobile racer from 1902 and he took part in races for several years. He also took part in the first rallye which led around the world. He finished third.
The flying had also a magic fascination for him. Together with his brother, the aircraft designer Hans Robert Vollmöller, he built aeroplanes.

But the literature remained an imortant factor in his life and he translated numerous works of other authors into German.

Karl Vollmöller got in touch with the world of the theater from 1903 and he wrote many plays and some of them became successful worldwide.
To these works belong "Giulia, dia Amerikanerin" (05), "Der deutsche Graf" (06), "Antigone" (06), "Wieland" (11) and especially "Das Mirakel" (11) which was a worldwide success in the 20s as a musical. Other plays followed with "Venezianische Abenteuer eines jungen Mannes" (12), "Die Fürstin" (14), "Die Brüder" (15), "Madame d'Ora" (17) and "Onkelchen hat geträumt" (18).

With the filming of his well-known play "Miracle" (12) he entered the film business as a screenwriter. In the next years he wrote the screenplays for "Eine venezianische Nacht" (14), "Der Hermelinmantel" (15), "Catharina - Gräfin von Armagnac" (23), "Inge Larsen" (24), "Lady of the Pavements" (29), the classic "Der blaue Engel" (30), "Hundert Tage" (35) and "Abrechnung in Shanghai" (48).

Karl Vollmöller left Germany with the rise of the National Socialists and he lived in Italy, France and in the USA where he spent the last years of his life. He always resisted to the allurements of the German Reich with lucrative functions.

To Karl Vollmöller's last novels belong "Schmutziges Geld" (25), "Acht Mirakel der Heiligen Jungfrau Maria" (28), "The Younger Brother of Christ" (45) and "The Last Miracle" (49).

Karl Vollmöller was married with the actress Maria Carmi and he was allied with the dancer and actress Lena Amsel.