Wilhelm Strienz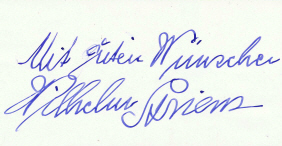 1900 - 1987
.
.
The singer and actor Wilhelm Strienz finished a commercial education before he dedicated to the singing.
When he finished his education he started his career the opera house in Berlin in 1922. In the next years followed engagements in Wiesbaden, Stuttgart and Kaiserslautern.

Wilhelm Strienz also worked for the radio from 1926, beside it he remained active as an opera singer.

Thank to his popularity he also got the possibility to appear in few movies where he impersonated singers. To these productions belong D"Wunschkonzert" (40) and "Fronttheater" (42).

Wilhelm Strienz was able to continue his career after the war also his name was on the so-called "Gottbegnadeten-Liste" of Adolf Hitler.
He realised several records and went on divers tours.