Lisa Stammer alias Lisa Kressel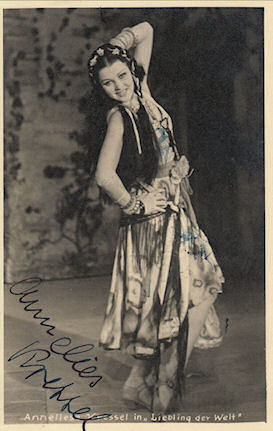 Foto: Hanns Holdt (1887-1944)

1916 - 1985
.
.
The actress and dancer Lisa Stammer was born as Annaliese Kressel in Düsseldorf.

She began her artistic career as a dancer at the opera in Frankfurt/Main, it followed engagements in Duisburg, Düsseldorf und Munich.

In Munich she worked on stage for many years, often as a solo dancer.

Thank to her popularity the film business became aware of her and she made her film debut with "Zwischen Hamburg und Haiti" (40).

Afterwards she could only continue her film career after the end of World War II.
She took part in the productions "Der Apfel ist ab" (48), "Die Reise nach Marrakesch" (49), "Nacht ohne Sünde" (50), "Die Sterne lügen nicht" (50), "Nacht ohne Sünde" (50), "Torreani" (51), "Pension Schöller" (52), "Man lebt nur einmal" (52), "Man nennt es Liebe" (53), "Clivia" (54), "Die ganze Welt singt nur Amore" (56) and "Ihr 106. Geburtstag" (58).

After her active stage career she opened the Jazz-Bar "Kleines Rondell" together with Guido Eberl and worked as a gastronome.