Karl Pfann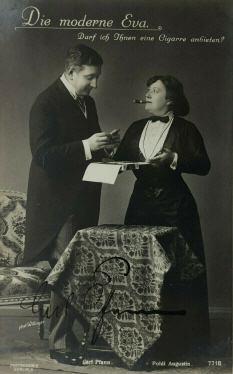 Foto: Wilhelm Willinger (1879-1943)

1874 - 1928
.
.
The actor and singer Karl Pfann joined the theater business relatively late when he applied for a "Wandertheater" at the age of 28. He soon was deployed for comedic plays.
He had his breakthrough when an actor dropped out at the Landestheater Laibach and he got a big role.
He was successful in no time and by this occasion his singing abilities were also discovered and supported.

He went to the Deutsches Volkstheater in Prague in 1894 and one year later he acted at the Theater in der Josefstadt in Vienna.

Karl Pfann improved his singing abilities in 1898 with singing lessons and afterwards he was also convincing as an operetta singer.
Numerous engagements led him to stages in Austria and Germany and made him well-known to a huge audience.

Thank to his popularits he was also engaged for a movie in 1916.
In "Die Tragödie auf Schloss Rottersheim" (16) directed by Jacob and Luise Fleck he impersonated the role of baron Erich Hartwig at the side of Liane Haid, Hermann Benke, Cordy Millowitsch and Otto Storm.