Alois Pennarini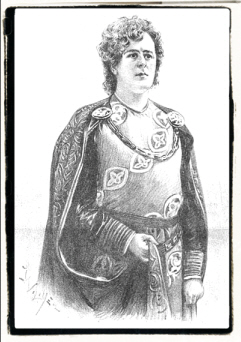 Bildnis: Jan Vilimek (1860-1938)

1870 - 1927
.
.
The singer and actor Alois Pennarini was born as Louis Aloys Federler in Neudorf.

He became increasingly interested in the theater at a young age and after his school education he pursued this goal consequent. He took first singing lessons and finally he joined the Viennese conservatory where he became an education as a singer.

When he finished his study he was able to make his stage debut as a singer in Pressburg in 1883. In the next years followed numerous other engagements, first in smaller cities, later also in Vienna, Graz, Hamburg andd Berlin.
Beside it some of his tours led him to far countries like North America in 1904.

Besides his activity as a singer Alois Pennarini took over the function of a theatre manager in Nuremberg in 1913.

Alois Pennarini appeared in his first movie at the age of 52. He made his film debut playing the role of a singer in "Mabel und ihre Freier" (22) with Eva Christa and Emil von Dollen.

In the same year he impersonated the title role in the movie "Heinrich Heines erste Liebe" (22) with Margarete Lanner and Vera Nordegg.

Alois Pennarini was married with the singer Ella Appelt.