Paul Olmühl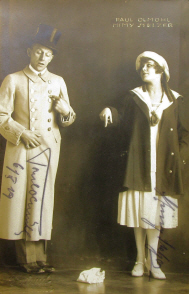 1887 - 1962
.
.
The actor Paul Olmühl first studied music in Vienna before he launched a successful stage career.
He soon realised operas and operettas as a director, among others in Teplitz-Schönau where he continued to play smaller roles.

Afterwards he continued his career as an operetta director in Magdeburg, Basel and Salzburg.

Paul Olmühl already took part in his first movie in 1914 with "Filmposse" (14) with Gustav Maran and Gisela Werbezirk.

In the next years followed few other silent movies. He impersonated the role of Ferdl in "Wien im Krieg" (16) with Georg Kundert and he appeared in the productions "Der Leibeigene" (19) with Eugen Jensen, Ernst Marischka's "Enis Aldjelis, die Blume des Ostens" (20) with Lilly Marischka, "Könige des Humors" (22) at the side of Mizzi Zwerenz, Gustav Werner and Leo Uhl as well as "Die Goldratten" (23) with Nora Herbert.

Paul Olmühl continued his career as an operetta director successfully after World War II in Austria.