Alexandra Molino alias Molino von Kluck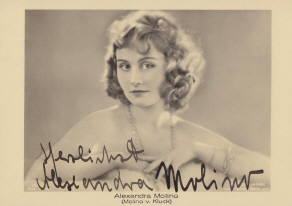 Foto: Alexander Binder (1888-1929)

1911 - 1934
.
.
The actress Alexandra Molino was born as Alexandra Molino von Kluck. Her grandfahter was the Prussian colonel general Alexander von Kluck.

She was soon interested in acting and Alexandra Molino began her career at the theater where she appeared in several plays.

Finally she entered the film business with "Engel im Séparée" (29) with Elizza la Porta, Rolf von Goth, Robert Garrison, Gerhard Dammann and Olga Engel.

In the 30s she appeared in productions like "Liebeskleeblatt" (30) with Lilian Ellis, Maria Forescu, Siegfried Berisch and Eugen Burg, playing the role of Wilhelmine in Geza von Bolvary's "Die lustigen Weiber von Wien" (31) with Willi Forst, Lee Parry, Paul Hörbiger and Irene Eisinger, as Sweethart in "Der Schlemihl" (31) at the side of Curt Bois, La Jana, Hans Adalbert von Schlettow, Hubert von Meyerinck and Max Ehrlich and "Der Raub der Mona Lisa" (31) directed by Géza von Bolvary with Trude von Molo, Willi Forst, Gustaf Gründgens, Fritz Odemar, Max Gülstorff, Paul Kemp, Alexander Granach, Rosa Valetti and Fritz Grünbaum.

Her last appearance in front of the camera was for "Wir parken, wo es uns gefällt" (34) with Franz Verdier, Sven Holm and Ulla von Henning.

Alexandra Molino was killed in a car accident when she travelled to her grandparents living near Bordeaux. She was only 22 years old.