Valerie von Martens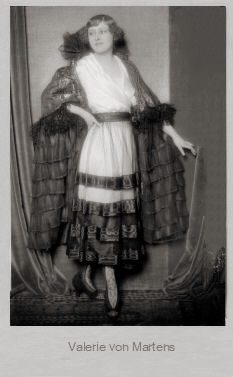 Foto: Arthur Benda (D'Ora) (1885-1969)
Mit freundlicher Genehmigung
Österreichische Nationalbibliothek Copyright
1896 - 1986
.
.
The actress Valerie von Martens was born as Valérie Adele Rudolfine Mara Pajér Edle von Mayersperg in Lienz. She formed together with the actor and director Curt Goetz a brilliant couple which realised unforgettable plays which thrilled the audience to enthusiasm.

She already made her film debut in 1922 with "Der Taugenichts" (22), after that she concentrated to the theater again and many years went by before she appeared again in front of the camera.
She got married with Curt Goetz in 1923 and they kept together till his death.

In 1937 she took part in the movie "Land der Liebe", directed by Reinhold Schünzel. The movie met with huge disapproval by Goebbels and Schünzel had to emigrate. Valerie von Martens and Curt Goetz, who wrote the script, were interrogates by the Gestapo but didn't have other consequences.

One years later appeared Valerie von Martens in the movie "Napoleon ist an allem schuld" (38), and after the war followed her last cinematical works in the 50's like "Frauenarzt Dr. Prätorius" (50), "Das Haus in Montevideo" (51) and "Hokuspokus" (53).