Otto Laubinger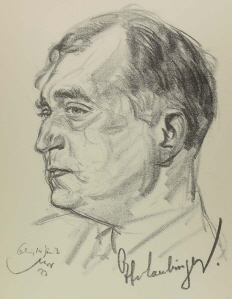 Bild: Emil Stumpp (1886-1941)

1892 - 1935
.
.
The actor Otto Laubinger began his career at the theater and he appeared among others at the Staatstheater in Berlin.

He only appeared rarely in front of the camera, his first movie was the silent movie "Der böse Geist" (22) directed by Carl Wilhelm with Hans Albers, Hans Brausewetter, Wilhelm Diegelmann, Josefine Dora, Karl Etlinger, Hermann Picha and Fritz Richard.

In 1930 he took part in his first and only sound film "Das gestohlene Gesicht" (30) at the side of Hans Otto, Max Adalbert, Edith Edwards, Paul Henckels and Fritz Odemar. In this movie he played the part of Mr. Bellamico.

Otto Laubinger Joined the NSDAP already in 1932 and he became the head of the section Theater and Film. In the next year he became the Head of Division of the department "Theater" and president of the Reichstheaterkammer.

Otto Laubinger died in 1935 at the age of only 43.