Willy Kleinoschegg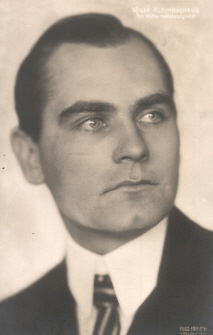 Foto: Hugo Erfurth (1874-1948)

1885 - 1955
.
.
The actor Willy Kleinoschegg got an acting education at the Burgtheater in Vienna and at the Reicherschen acting school in Berlin.
Afterwards he began his career at the theater and in the next years he acted in cities like Bielefeld, Jena, Aachen and from 1913 Dresden.
There he remained active for many decades and became an important stage actor.

Willy Kleinoschegg already joined the film business in 1919 and he acted in the production "Arme kleine Eva" (19) with Alice Dagny and Hans Wallner.
But this remained his only appearance in front of the camera for the time being.

Only after World War II he continued his film career. He impersonated the role of Kommerzienrat Treibel in "Corinna Schmidt" (51) with Trude Hesterberg, Hans Hessling, Erna Sellmer, Egon Brosig and Erika Glässner and he played Mr. Paulsen in "Polo Poppenspäler" (54) at the side of Heliane Bei, Leny Marenbach, Wilhelm Koch-Hooge and Aribert Grimmer. Both movies were directed by Arthur Pohl.