Miriam Horwitz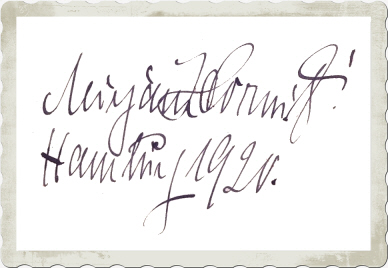 1882 - 1967
.
.
The actress Mirjam Horowitz got her acting education by the famous Max Reinhardt and afterwards she launched her stage career in Berlin.

In Berlin she met the actor and director Erich Ziegel and they got married.
They moved to Hamburg where they founded the Hamburger Kammerspiele.

In the next years Mirjam Horwitz was very successful on stage, often in plays of young authors.

When her husband became the managing director of the Hamburger Schauspielhaus which would have let to a double burden for Erich Ziegel, it was Mirjam Horwith who continued to manage the Kammerspiele and she also realised some plays as a director.

Mirjam Horwitz was only rarely active in the film business but the first time already in 1913 for the productions "Richard Wagner" (13) and "Die schwarze Natter" (13).
1917 followed her last silent movie "Leidvolle Liebe" (17).

Afterwards she concentrated to the theater again but her career came to an end with the rise of the National Socialists. As a Jew she had to flee to Vienna together with Erich Ziegel.
But Erich Ziegel was not able to continue his career in Vienna as desired. Due to Gustaf Gründgens he returned to Germany and Mirjam Horwitz followed him.

The return was a huge risk for Mirjam Horwitz but Gustaf Gründgens managed the security of Mirjam Horwitz till the end of war thanks to his relationship to the rulers. But it was not possible that she was acitve as an actress in those years.

Mirjam Horwitz continued her stage career after the war both as an actress and director. And 40 years after her last movie she had a brief comeback in front of the camera with support roles for the movies "Die Zürcher Verlobung" (58) and "Frau im besten Mannesalter" (59).