Adele Hartwig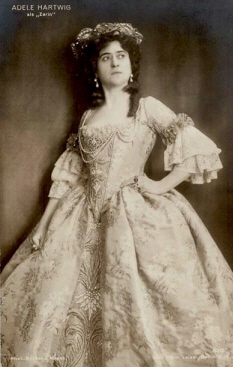 Foto: Becker & Maass (Atelier 1902-1938)
1872 - 1968
.
.
The actress Adele Hartwig was born as Adelheid Elisabeth Petz in Hernal. She began her career at the theater, first in Vienna and Brünn, later also in New York, Braunschweig and Berlin. As a theater actress she had numerous engagements and she even managed some theaters like the Komödienhaus, the Friedrich-Wilhemstädtische Schauspielhaus and the Deutsches Theater in Lodz. At the beginning of the 20s she appeared in few movies, her film career remained limited to the silent movie era.

To her first movies belong "Das Gewissen der Welt" (21), "Betrüger des Volkes" (21) and "Der wandernde Koffer" (21).

In the next year came her last cinematical works into being with "Die Schatten jener Nacht" (22) and "Die Königin von Whitechapel" (22).

Adele Hartwig was among others married with the actor Walter Wassermann.