Emil Guttmann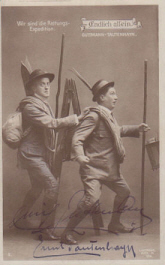 1879 - 1934
.
.
The actor Emil Guttmann was born as the son of the stage actor Alexnader Guttmann.
He began his stage career at a theater in Vienna in 1897, afterwards followed a long lasting engagement in Graz where he also realised first plays as a direcor.

It followed appearances in other Austrian cities before he returned to Vienna where he spent the remaining 30 years of his career. There he also appeared as a singer.

Emil Guttmann entered the film business in 1916 with "Die Landstreicher" (16), it followed the silent movies "Die beiden Meier" (18) and "Seine Durchlaucht der Landstreicher" (19).

His cinematical works remained seldom in the next years too and he took part in the silent movies "Der Himmel voller Geigen" (23) and "Die beiden Seehunde" (28).

His last movies came at the beginning of the 30s into being, among them "Wiener Herzen" (30), "Die Bräutigamswitwe" (31), "Purpur und Waschblau" (31) and "Ausflug ins Leben" (31).

Besides his activity as an actor he also wrote the screenplay for the movie "Kaiserliebchen" (31).

Emil Guttmann committed suicide in 1934. He was 54 years old. His twin brother Paul Guttmann and his older brother Arthur Guttmann became also actors.
Emil Guttmann was married with the singer Polly Koss.