Franz von Egenieff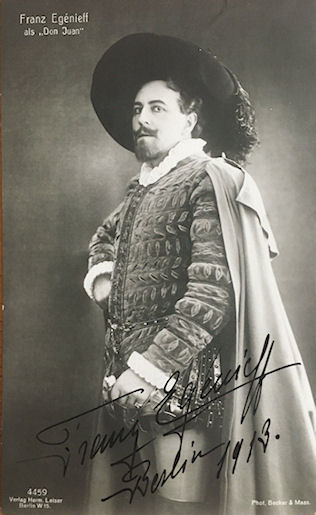 Foto: Becker & Maass (Atelier 1902-1938)

1874 - 1949
.
.
The actor and singer Franz von Egenieff was born as Marian Eberhard Franz Emil von Kleydorff in Niederwalluf. His family was of aristocratic blood and his father was prince Emil zu Sayn-Wittgenstein-Berleburg.

He inherited his artictic ability from his mother, the ballet dancer Camilla Stefanska.

But before he began his artistic career he joined the military where he served as a lieutenant till 1900. Afterwards he took singing lessons he he launched his stage career from 1904. Because to appear on stage misbecomes a von Kleydorff he chose the pseudonym Franz von Egenieff.

In the next years he became established as an opera singer and he sang among others in North America with the Savage Opera Company and later in Berlin, Dresden, Cologne Leipzig, Munich and Weimar.
He soon became established as a popular opera singer on well-known stages.

He already appeared in first movies in 1913 like "Das gelbe Band" (13) and "Der Kornkönig" (13) before he took a timeout and went on journey around the world.

He only appeared seldom as an opera singer after World War I but he continued his film career.
To his silent movies of those years belong "Eines grossen Mannes Liebe" (19), "Die Tarantel" (20), "Das Skelett des Herrn Markutius" (20), "Die Rache einer Frau" (21), "Der falsche Dimitri" (22), "Die Buddenbrooks" (23), "Colibri" (24) and "Vater werden ist nicht schwer..." (26).

Afterwards he film career came to an end and Franz von Egenieff appeared as an opera singer for few ore years, among others at the Bayreuth festival and with afresh tour through North America.