Walter Ebert-Grassow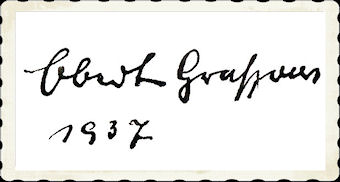 ? - ?
.
.
The actor Walter Ebert-Grassow was a stage actor in the first place, he only appeared rarely in front of the camera.

His stage career led him to Erfurt, Teplitz-Schönau, Giessen, Münster, Innsbruck and Berlin. He was not only active as an actor but also realised plays as a director.

He made his film debut with the production "Der fliegende Holländer" (18) with Ernst Benzinger, Jeanette Bethge, Leonhard Haskel and Guido Schützendorf.
In the next year followed "Die das Leben bezwang" (19) at the side of Fritz Junkermann and Eva Speyer.

It followd a longer interruption before he continued his film career in 1940.
Hbe acted in the movies "Feinde" (40) with Brigitte Horney, Willy Birgel, Ivan Petrovich, Beppo Brem and Friedrich Ettel as well as in "Alarmstufe V" (41) with Heli Finkenzeller, Ernst von Klipstein, Bruno Hübner, Friedrich Domin, Liesl Karlstadt and Ernst-Fritz Fürbringer.