Hugh Douglas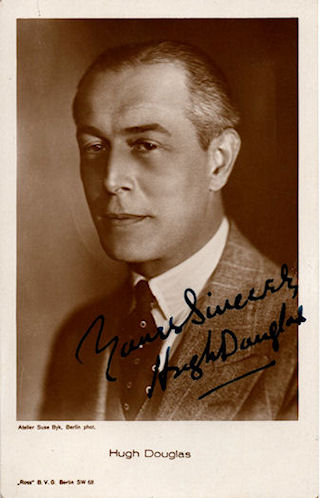 Foto: Suse Byk (1884-1943)

? - ?
.
.
The actor Hugh Douglas was involved in a number of German productions from the end of the 1920s.

He made his film debut in the English production "Q-Ships" (28), before appearing in Germany for the first time in the same year in the film "Der moderne Casanova" in the role of Dr. Arnstedt. His co-stars included Harry Liedtke, Maria Corda, Ernst Verebes and Lydia Potechina.

In the next years he impersonated other roles in Germany. Among them were "Strassenbekanntschaften" (29), "Die Zirkusprinzessin" (29) and "Napoleon auf St. Helena" (29).
Besides he had a guest appearance in the Czech production "Osudné noci" (29).

At the beginning of the 30's came his last cinematical works into being with "Nur am Rhein..." (30) and "Niemandsland" (31).