Lillebil Christensen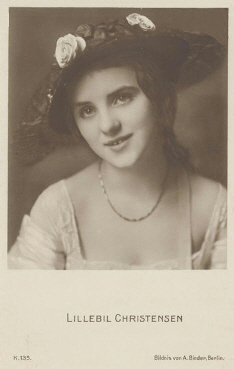 Foto: Alexander Binder (1888-1929)
1899 - 1989
.
.
The actress Lillebil Christensen (also known as Lillebil Ibsen) was born as Sofie Parelius Monrad-Krohn in Norway.

She already began her acting career in 1911 at the theater and it followed a tour which led her to Great Britain, Germany and the USA. Finally she was engaged by Max Reinhardt for whom she worked from 1915 to 1918.

Lillebil Christensen took part in some movies from 1918 in Germany, Sweden and Norway.
To her first movies belong "Europa postlagernd" (18) directed by Ewald André Dupont with Max Landa and Guido Herzfeld and "Sangen om den eldröda blomman" (19) with Lars Hanson.

Her appearances in front of the camera reimaned rarely and she concentrated to the theater.
To her other silent movies belong "Weltbrand" (20) directed by Urban Gad, "Christian Wahnschaffe" (21) with Ernst Dernburg and Ilka Grüning and "Pan" (22) with Gerd Egede-Nissen.

Lillebil Christensen remained active as an actress till to the old age and besides her appearances on stage she also impersonated roles in few more movies in the next decades.
To these productions belong "Lika inför lagen" (31), "Op med hodet!" (33) directed by Tancred Ibsen, "Arthurs forbrytelse" (55), "Mannekäng i rött" (58) with Anita Björk, "Hennes meget konelige hoyhet" (68) and "Somewhere, Sometime" (79).

Lillebil Christensen realised her only movie as a director in 1946 with "Et spokelse forelsker seg" (46).

Lillebil Christensen was married with the director Tancred Ibsen.