Willy Bauer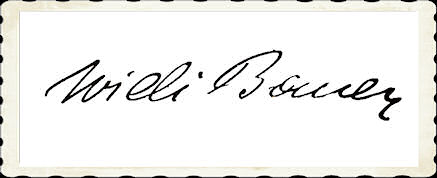 1866 - 1938
.
.
The actor Willy Bauer was born in Prague and was active in the theatre in the first place, only from the 30's Willy Bauer acted sporadically in front of the camera.

He made his film debut as General Conrad von Hoetzendorf in "Der Fall des Generalstabs-Oberst Redl" (31) by Karl Anton with Theodor Loos, Lil Dagover, Otto Hartmann, Alexander Murski, Michael von Newlinsky and Magnus Stifter.

Afterwards he impersonated the servant Alois in "Das Glück von Grinzing" (33) at the side of Ivan Petrovich, Gretl Theimer, Alfred Gerasch and Maria Freene.

After that Willy Bauer took part in some Czech productions like "Pokuseni, pani Antoine" (34), "Hrdina jedné noci" (35) and "Duvod k rozvodu" (37).

His last film work was "Die Gottes Mühlen" (38) with Viktor Afritsch, Jirina Stepnickova, Willi Volker and Elfriede Bringgolf.