Ferdinand Asper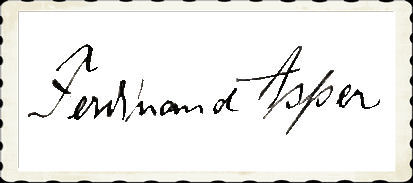 1895 - 1950
.
.
The actor Ferdinand Asper began his stage career in Berlin in the 10s. He was active at the Volksbühne for many years, later he also appeared at the Rose-Theater and at the Theater der Jugend.

From 1930 he also impersonated support roles in several movies. To these productions belong "Die letzte Kompagnie" (30), "Susanne macht Ordnung" (30), "Der verlorene Tal" (34) and "August der Starke" (36).

He continued his film career during World War II with "Trenck, der Pandur" (40), "Mein Leben für Irland" (40), "Ohm Krüger" (41), "...reitet für Deutschland" (41), "Der grosse König" (42), "Wenn die Sonne wieder scheint" (42), "Seinerzheit zu meiner Zeit" (44), "Kolberg" (45) and "Via Mala" (45).

After the war he went to Switzerland where he concentrad to his stage career. He remained active an as actor at the Stadttheater St. Gallen till to his death.