Didier Aslan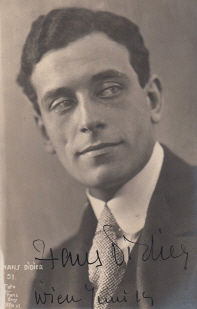 Foto: Franz Löwy (1883-1949)

1893 - 1978
.
.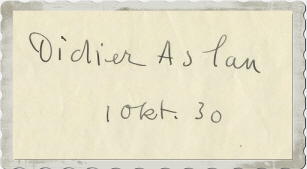 The actor Didier Aslan finished an education at the academy for music and visual arts. Afterwards he made his stage debut in Stuttgart, it followed engagements in Vienna, among others at the Volkstheater.

He became not only established as the theater actor in plays but was also regularly active in operettas and revues.

Didier Aslan only appeared sporadically in front of the camera, his first movie role was duke von Soria in Gerhard Lamprecht's "Die Andere" (24) with Xenia Desni, Fritz Alberti, Hugo Werner-Kahle and Elsie Fuller.

It followed other cinematical works and he impersonated the Duc do Monthieu "Michael" (24) directed by Carl Theodor Dreyer with Walter Slezak, Nora Gregor, Robert Garrison, Alexander Murski, Grete Mosheim and Karl Freund, he was Mr. Jungmann in Gerhard Lamprecht's "Menschen untereinander" (26) at the side of Alfred Abel, Aud Egede-Nissen, Eduard Rothauser, Renate Brausewetter, Paul Bildt, Mathilde Sussin, Max Maximilian, Käthe Haack, Margarete Kupfer, Lydia Potechina and Grit Haid and he played the character Fritz in "Hölle der Liebe" (26) with Vivian Gibson, Erich Kaiser-Titz, Wilhelm Dieterle, Olga Engl, Georg John and Claire Lotto.

His brother was the famous actor Raoul Aslan.