Since my earliest childhood I was confronted with the TV Serial "Our Gang" (or "The Little Rascals") and gave me uncountable hours of fun. It was only a question of time that I have recollected to these rascals in my adult years. Now I'm trying to collect the signatures of the children actors of the 20s to the 40s.
Most of the actors/actresses have already died or have got into oblivion so it's impossible to find out their addresses.
Below you can see some signed pichtures I could manage to receive (sometimes by mail, sometimes by other collectors). They all have found a special place in my collection. I'm always interested to enlarge my collection with other signatures of the little rascals. Let me know please if you can help me. Thanks.

Historical survey of Our Gang / The Little Rascal
The first episodes were shot in 1922 and found an end in 1944. Totally there are 221 single episodes. A complete catalog of all episodes you will find at "All movies of Our Gang / The Little Rascals at a glance".
The little Rascals were called into live through the legendary producer Hal Roach (Roach also spotted the comedians Laurel & Hardy). The trigger for the combination of a child troupe was the exceptional big success of rascal Ernie "Sunshine Sammy" Morrison in comedies of Harold Lloyd and Snub Pollard.
The composition of the troupe was checkered and represented typical children in the neighborhood. The original cast were Mary Kornman (the beautiful girl), Allen "Farina" Hoskins" (the naive negro), Mickey Daniels (the freckled whipper-snapper), Joe Cobb (the pleasant fat person), Jackie Condon (the rich fellow), Ernie Morrison (the rascal) and last but not least Pete the pet with a painted circle around his right eye.
The success of the rascals was based on the imitation of the world of the adult but at the same time they played a trick or shew a behavior which the adults wouldn't dare to do themselves. It is also astonishing that the children acted extremely natural in contrast to the child stars in the 30's with their pseudo adultness.
The stories were made from simple pattern but affectionate. At this time didn't exist real scripts but rather there was a short outline of the main theme, gags and other ideas were developed only during the shot. The success of the serial wasn't due to a single person but was the result of a exemplary teamwork.
Each episode offered new adventures for the children. There is a trip to New York where happened the coincidence that the children are able to nabbing a bus, to play deadhead or to hover over the city with a piece of fabric as parachute replacement.
In spite of their unusual behavior, the rascals never had to expect serious consequences because they tricked the adults with wit and phantasie. Perhaps the children took a sound thrashing after a successful adventure, but after that they show to the audience with a roguish expression that the preceded adventure was worth for this and that nothing could take away their go by experiences.
When Hal Roach sold the serial to M-G-M in 1938, it rang in the decline of the serial. M-G-M wasn't able to maintaining the magic which the serial radiated before and was shut down in 1944.
Since then the serial experienced a resurrection time and again through broadcastings on TV. With this they erected a lasting monument to the little rascals.

---
Tommy "Butch" Bond (1926-2005)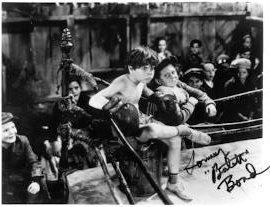 Ask anyone who even casually remembers the Rascals who Alfalfa's nemesis was and they'll tell you "IT'S BUTCH!" Clearly, it's not just the heroes and good-guys that leave an impression.
Our Gang lasted for 22 years, during which time tough-guys came and went. The series never really embraced the idea of a recurring bully that audiences could grow to despise. That is, until Tommy Bond played Butch for four years. Kids in the audiences would happily grow to fear and hiss at Butch.
In 1931, Tommy Bond was five years old and living in Dallas, Texas when he was "discovered" by a Hal Roach Studios talent scout. He was offered an interview with Hal Roach, IF he could get out to Hollywood. This was not a simple task during the height of the depression, not to mention that the roads were often dirt. Luckily, Tommy's grandmother was able to drive him out to his interview. He was signed on with the Gang to play "Tommy". He appeared in a number of shorts, as one of the "second-echelon" kids.
For unknown reasons, Tommy was dropped from the cast after his first year. He managed to pick up free-lance parts for another year-and-a-half, before Hal Roach called him back asking him if he would like to play the part of the tough-guy, Butch. He gleefully portrayed Butch for the next four years, until he outgrew the Gang, a fate which fell upon all Rascals eventually.
After Our Gang, Tommy went to Van Nuys High School where he joined the ROTC. After graduating, he enlisted in the Navy Air Corps. Following his stay in the service, Tommy continued his acting career appearing in many different movies. Probably his most famous roll during this period was that of Jimmy Olsen, Clark Kent's sidekick in two full Superman serials in 1946 and 1948.
In 1951, following college, Tommy quit acting and became an assistant director at channel 11 in Los Angeles. Twenty-one years of "smog, earthquakes, and wall-to-wall people" was enough for Tom, and in 1972 he moved to the San Joaqin Valley where he took on work at channel 30 and remained until he retired in 1990. He has also chronicled his days with the Gang in book which is aptly entitled "You're Darn Right It's Butch!"
Tommy has been married for 43 years and has one son. Polly is a former Miss California, and sang in a country & western duet known as the "Darling Sisters". His son, Butch, is a producer/director and an independent film maker. He is currently wrapping up a comedy which has been two years in the making.
Today, there is little time for rest in retirement for Tommy Bond. He is extremely proud of two projects with which he is actively involved. He is the spokesman for Cabin Fever's 21 volume video set of fully restored Little Rascals films. He travels around the country promoting them and appearing on various tv programs. And what a great product to endorse...if you haven't seen them, I urge you to seek them out. For the first time, all of the Little Rascals talkies and a few of the silents have been painstakingly restored and lost scenes put back where they belong. According to Tom, there is a possibility of even more of the silents being released. Let's hope!
Tom is also involved with another huge project which sounds very exciting. He is on the Board of Directors of the upcoming Comedy Hall of Fame. This is a non-profit organization dedicated to the preservation of various comedy media. So far the organization has raised $23 million and is only $2 million away from ground-breaking. The Hall of Fame will be an 80,000 square foot facility in Palmetto, Florida, south of St. Petersburg. It will contain memorabilia and sections devoted to old movies, radio, stand-up, vaudeville, clowns, etc. There will be a gift shop, a restaurant, a wax museum, and a research library. Memorabilia is being donated by W.C. Fields' grandkids, Eleanor Keaton, among others. Attendance is expected at 7,000 to 10,000 visitors a day. After spending nearly all his life in California, Tommy Bond will be moving down to Florida to take part in this project. This sounds like a lot of fun.
Summary of his filmworks:
Tommy Terror's Scary Stories (1999) Atom Man Vs. Superman (1950) Big Town Scandal (1948) Man from Frisco (1944) Static in the Attic (1939) Men in Fright (1938) Gobs of Trouble (1935) Kid Millions (1934) Forgotten Babies (1933) Spanky (1932)

---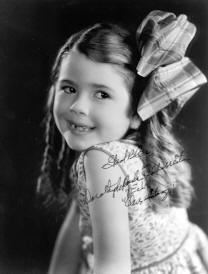 Adorable Dorothy DeBorba was with the Gang for three years, beginning her career at age five. Quickly, Dorothy became an audience favorite with her trademark curls and elaborate hair bows. Her mother made those bows and would spend two hours every night brushing and putting Dorothy's hair up in curlers. Of course, her natural energy and mischievousness added to her appeal!
Dorothy left show business shortly after her Our Gang career. Today, she lives in Livermore, California and recalls her Rascals days vividly and with fondness.
When I spoke to her recently at a Sons of the Desert meeting, she reminisced that "...the boys (in the series) were given all the best lines." Ironic indeed, for anyone who has seen "Love Business", where Dorothy delivered some of the funniest lines in the entire series! A real charmer.
Summary of her filmworks:
The Kid from Borneo (1933) Mush and Milk (1933) Birthday Blues (1932) Hook and Ladder (1932) Spanky (1932) Little Daddy (1931) Bargain Days (1931) The Slippery Pearls (1931) Teacher's Pet (1930) A Royal Romance (1930)

---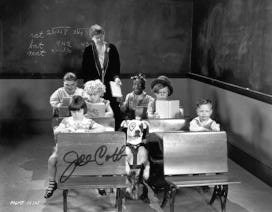 Joe Cobb was born in 1917 in Shawnee, Oklahoma. He appeared in 86 Our Gang episodes during seven years and he had three guest-appearances in the serial in the 30's.
Joe Cobb personified the jolly naive fat person in a perfect way and lend weight to the Our Gang. His film career was a product of pure chance. He and his father were on vacation in Los Angeles. They visited among other things the film studios and finally passed by the Hal Roach studio. At the same afternoon he was taken to the set by the filmcrew and played his first part in "A Gough Winter" (22) together with Snub Pollard and James Finlayson. Joe Cobb was so nervous that he was flabbergasted, even speechless. Fortunately the movie wasn't able to speak at this time. The director Charles Parrott - the later Charley Chase - brought him together with Our Gang. All this happened in September 1922.
After Joe Cobb left Our Gang he was renewed engaged by the studio in 1936 as Master of Ceremonies for Our Gang. He then sought out minor roles in things like "Where Did You Get That Girl?" (41) and "Tuxedo Junction" (41), before he was going into defense work as an assembler in 1942.
With a height of 5 feet he belongs to the smaller actors but his importance in the film history of Our Gang is one of the most important.
Summary of his filmworks:
Where Did You Get That Girl? (1941) Reunion in Rhythm (1937) Fish Hooky (1933) Boxing Gloves (1929) Noisy Noises (1929) Crazy House (1928) Edison, Marconi & Co. (1928) Dog Heaven (1927) Olympic Games (1927) Shivering Spooks (1926) Monkey Business (1926) Boys Will Be Joys (1925) Circus Fever (1925) High Society (1924) The Buccaneers (1924) Giants vs. Yanks (1923) The Big Show (1923)

---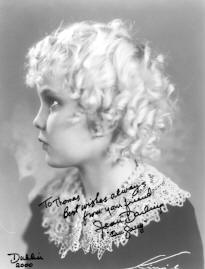 Jean Darling was born in 1922 in Santa Monica, CA. She already appeared in some movies at the age of six month and she had among others an appearance in the movie "Seeing the World" at the age of four. She appeared in 35 Our Gang episodes during three years.
Her name was also a synonym for her person. The blonde blue-eyed beauty was seen on the road by the wife of the Assistant General Manager of the Hal Roach studio. During the 20's she was a darling of the Our Gang fans. In the 30's she went on Vaudeville tour with Our Gang and when she left the gang she also toured Vaudeville in a single act of song, dance and patter.
Her first height after Our Gang she could celebrate as Curly Locks in "Babes in Toyland" (34) at Laurel & Hardy's side. In the same year she played the title role in "Jane Eyre".
In 1940 she began to study singing and got a scholarship by the New York Municipal Opera Association. At the same time she became offered a part together with Mickey Rooney in one of his Andy Hardy movies by M-G-M, but spurning both, Hollywood and the opera she turned towards the Broadway where she had her debut in "Count Me In" (42). In the following years she appeared in a number of shows on Broadway but the best know was her role as Carrie Pipperidge in the original Broadway production of "Carousel" in which she played 850 consecutive performances which is a record for a singer.
During the war she had several appearances for soldiers which led to loyal fans and work for radio and TV in the 40's and 50's.
About her experiences as a child star she told: "It is bad enough for an adult reach to the height of your career, and after that to return to the normal performers - as a child it was disastrous. As a child I thought I am a little god. I lived in a fictitious world and the people around me said oooh and aaah, and I believed them. This could have destroyed me, unfortunately it destroyed many others. Sometimes I think, the fact, that I was spared was just plain magic.
In 1954 she got married with Reuben Bowen who was the former Kajer the Magician. Since 1974 she has lived in Dublin and pursues a career as writer of mystery stories and reading her own stories "Aunt Poppy" for the RTE radio and TV, beside it has written plays for radio and has worked as a journalist. She has published over 50 short stories in "Ellery Queen", "Hitchcock" and different magazines in Ireland.
Summary of her filmworks:
Babes in Toyland (1934) Jane Eyre (1934) Boxing Gloves (1929) Small Talk (1929) School Begins (1928) Crazy House (1928) Spook Spoofing (1928) Chicken Feed (1927) Olympic Games (1927) Ten Years Only (1927) Bring Home the Turkey (1927)

---
Gordon 'Porky' Lee (1933-2005)
Porky was born Eugene Lee in Ft. Worth Texas in 1933. (Later in life he adopted the name "Gordon" for himself.) In 1935 he and his family traveled to Hollywood wherein he became a Rascal for the next four years.
Upon leaving Our Gang, the Lees returned to Texas and Gordon eventually became a teacher. Today he lives happily in Minneapolis, Minnesota.
1935 was catering in probably the most popularly remembered group of Little Rascals.
Veteran Spanky was becoming a "big kid" and Alfalfa was just being introduced to fans of the Gang, soon to be teamed up with Spanky. Darla had just signed on as the Gang's leading lady, filling a long-standing vacancy. At age two, Eugene "Porky" Lee was brought into the troupe. Initially to portray Spanky's kid brother in Little Sinner. Soon, in a true bit of inspiration, Porky was teamed with Buckwheat, creating the best-loved pair of pals in Rascal history. With Butch soon added as the Gang's arch-nemesis, the ensemble was complete.
Director Gordon Douglas had a superb talent for letting Porky "do his thing", and captured some wonderful moments on film. Rarely did Porky appear as though he was acting; often looking around the set and going about his business while others were delivering lines. In fact, it was Porky who unwittingly provided some of the sincerest laughs of this period.
Summary of his filmworks:
Tiny Troubles (1939) Football Romeo (1938) Aladdin's Lantern (1938) Mail and Female (1937) Fishy Tales (1937) Glove Taps (1937) General Spanky (1936) Second Childhood (1936) Little Sinner (1935)

---
Eugene "Pineapple" Jackson (1916-2001)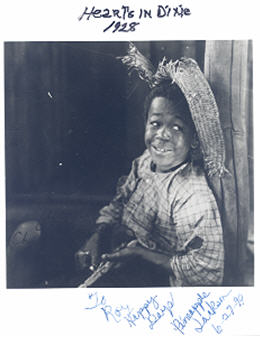 Eugene "Pineapple" Jackson was one of the silent members of the little rascals.
When he was six years old he was discovered by Hal Roach and made several "Our Gang" comedies. Charismatic and talented, he found work with other studios as well, including Universal's Century Comedies and Mack Sennett Comedies.
He also appeared in feature films during the silent era, including "Penrod and Sam" (1923), with child-star Ben Alexander; "Thief of Baghdad" (1924), with Douglas Fairbanks; "Little Annie Rooney" (1925), with Mary Pickford; and "Uncle Tom's Cabin" (1927), with James B. Lowe and Gertrude Howard.
The talkies didn't stop "Pineapple" Jackson. He was a survivor of the transition to sound, and his show-business career lasted for decades. He rubbed elbows
and tapped his toes with the greatest performers of our century, including Bill "Bojangles" Robinson, Al Jolson, Judy Garland and Gene Kelly. While his
successes could fill scrapbook after scrapbook, he considers his greatest accomplishment to be the inroads he made for Black performers in mainstream
America.
Summary of his filmworks:
Bayou Romance (1982) Take My Life (1941) Sporting Blood (1940) Reform School (1939) Guns and Guitars (1936) Tumbling Tumbleweeds (1935) Sporting Blood (1931) Cimarron (1931) Dixiana (1930) Uncle Tom's Cabin (1927) Little Annie Rooney (1925) Thief of Bagdad (1924) Penrod and Sam (1923)

---
Leonard Kibrick (1924-1993)
Sidney Kibrick (1928)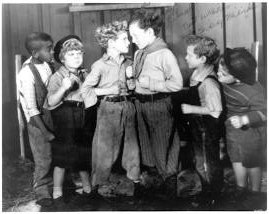 Sorry, no more information. Please let me know if you have any information about the Kibrick brothers.
Summary of the filmworks of Leonard Kibrick:
The Return of the Six-Million-Dollar Man and the Bionic Woman (1987) It's a Wonderful World (1939) Jesse James (1939) Poor Little Rich Girl (1936) Shrimps for a Day (1934) Washee Ironee (1934) For Pete's Sake (1934) Kid Millions (1934)
Summary of the filmworks of Sidney Kibrick:
Hearts Are Thumps (1937) Glove Taps (1937) Fishy Tales (1937) Two Too Young (1936) Bored of Education (1936) Anniversary Trouble (1935)

---
Mary Ann Jackson (1923 - 2003)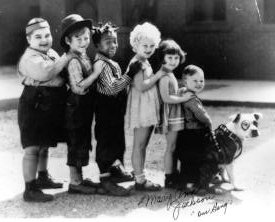 Mary Ann Jackson was born on January 14, 1923. She was one of the earliest child stars of the twenties and thirties. Sporting a distinct Dutch-cut hairdo and freckles, she was cast in the "Our Gang" series in 1928 and made 32 comedy shorts with the group until 1931. Although she was better known as one of the child performers from the famed "Our Gang" comedies that are still popular today, Mary Ann began her film career at the age of four in 1927's "Smith's Pony". Although she didn't make any full length motion pictures during 1928, Mary Ann more than made up for it the following year when she appeared in six major pictures such as "Bouncing Babies" and "Lazy Days". Unimpressed with acting and the industry, she left the film world after "Little Daddy" at the age of eight and eventually married. She did resurface in 1950 as Rosie Kettle in "Ma and Pa Kettle got to Town". She lives in San Fernando Valley, CA where she and her second husband settled and has no regrets for leaving the business. She does have fond regard for her days at the Hal Roach Studios and is impressed with her large fan following.
Summary of her filmworks:
Fly My Kite (1931) Little Daddy (1931) Bargain Days (1931) School's Out (1930) A Tough Winter (1930) The First Seven Years (1930) Shivering Shakespeare (1930) Boxing Gloves (1929) Railroadin' (1929)

---
George 'Spanky' McFarland (1928 - 1993)
Discovered at age three, George "Spanky" McFarland became a regular in the Our Gang film series during the 1930's and 1940's.
Appearing in 95 film shorts during his eleven year tenure, "Spanky" played the role of the enterprising, take-charge kid. His mother is credited with giving him his memorable nickname of "Spanky" which originated from her repeated warnings of what he would get should he venture into trouble.
At the end of January 1994, "Spanky" received a star on Hollywood's Walk of Fame, becoming the only Our Gang member to be awarded this honor.
Summary of his filmworks:
The Aurora Encounter (1986) Moon Runners (1974) I Escaped from the Gestapo (1943) Benjamin Franklin, Jr. (1943) Wedding Worries (1941) Bubbling Trouble (1940) Alfalfa's Aunt (1939) Men in Fright (1938) Mail and Female (1937) Arbor Day (1936) Mama's Little Pirates (1934) The Kid from Borneo (1933) Birthday Blues (1932) Spanky (1932)

---
Darwood "Waldo" Kaye (1929-2002)
Darwood Kaye was born on Sept. 8, 1929 in Fort Collins, CO. He moved with his parents to Idaho, then Montana, then to California at the age of five. He started in pictures at age of 6 and worked in 40 films over 9 years, including 21 "Our Gang" comedies as "Waldo".
He graduated from Hollywood High School and attended UCLA.
After this he was enlisted in the army, spent 1 1/2 years in service, mostly in Korea.
After his return he graduated from La Sierra College (now University) in 1952 with a degree in theology. He began work as a pastor in the Seventh-day Adventist Church in San Diego, CA. Later he served as a pastor in Palm Springs, Escondido, Oceanside & Fallbrook (all in California).
Certainly he received an invitation to go as a missionary to Thailand where he served from 1957 to 1974. When he returned to United States he served as a pastor in Santa Maria, St. Helena, La Crescenta, Tujunga, Burbank & Norwalk.
In 1992 he retired but continue to serve part-time at the La Sierra University Church.
He was married to Jean Smith. He had 4 sons. Three of them are also pastors and one writes scripts and produces the Voice of Prophecy radio program, a world-wide ministry. To complete the family he had 9 grandchildren.
Darwood Kaye was killed by a hit-and-run driver in May 2002.
Summary of his filmworks:

My Reputation (46) Best Foot Forward (43) The Big Premiere (40) Waldo's Last Stand (40) Three Smart Boys (37) Glove Taps (37)

---
Jackie Cooper was born on 15th September 1922 in Los Angeles.
At the age of three he came to the show business. Even though he "only" played in 15 episodes of Our Gang (between 1929 and 1931), he counts to the well-known players.
He left the Gang in 1931 in order to take on the leading role in the movie Skippy (his uncle, the famous director Norman Taurog, directed), which established his real film career and he became a star. Cooper was even awarded for an Oscar nomination as best actor for Skippy. He belonged to the top child actors in the 30's.
Jackie Cooper was able to continue the most successful career of all Our Gang members after the time of the gang. With movies like "The Champ" (31), "The Bowery" (33), "Treasure Island" (34), Peck's Bad Boy" (34) and "Treasure Island" he played himself into the hearts of the audience.
But as an adult it was more difficult to obtain good offers for movies. He acted among others in "Boy of the Streets" (38), "The Return of Frank James" (40) and "Ziegfeld Girl" (41), which demonstrated his capabilities.
His career was interrupted during World War II because he went to the Navy. After his return he got the necessary refinement at theaters in order to continue his actor career. Especially through TV serials he became a popular actor, among others in "The People's Choice" and in the cinema serial around Superman with Christopher Reeve.
Summary of his filmworks:
The Invisible Man (75) The Love Machine (71) Kilroy Was Here (47) Men of Texas (42) Ziegfeld Girl (41) The Return of Frank James (40) Streets of New York (39) What a Life (39) That Certain Age (38) Gangster's Boy (38) Dinky (35) Lone Cowboy (34) Divorce in the Family (32) Young Donovan's Kid (31) Love Business (31) Teacher's Pet (30) When the Wind Blows (31) The First Seven Years (30) Bouncing Babies (29) Boxing Gloves (29)

---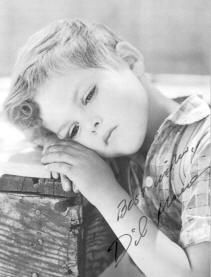 Dickie Moore was born on 12th September 1925 in Los Angeles. He belonged to the most occupied child actors in the 30's.
His career already began at the time of silent movie with the picture "Object Alimony" (1928). His career took shape at the beginning of the 30's. He was employed for movies like "Passion Flower" (30), "The Star Witness" (31), "The Expert" (32) and "Oliver Twist" (33) and had already been a star when he joined up with Our Gang in 1933.
Dickie Moore played, in contrast to many of his players in the gang, in other movies at the same time of Our Gang and took part in film classics like "Peter Ibbetson" (35), "The Story of Louis Pasteur" (36), "The Life of Emile Zola" (37), "The Gladiator" (38) and "Sergeant York" (41).
The 40's rang in the end of his career. It is true Dickie Moore played in three movies in the 50's, but after that he gave up acting and joined his private life. Dickie Moore remains in memory as a versatile actor, whom it was granted to be the first person, who was allowed to kiss Shirley Temple (in those days 14 years old) on the screen.
Summary of his filmworks:
Bad Boy (49) Miss Annie Rooney (42) The Great Mr. Nobody (41) Upperworld (34) Mush and Milk (33) Blonde Venus (32) Deception (32) Winner Take All (32) Aloha (31)

---
Jay R. Smith (1915-2002)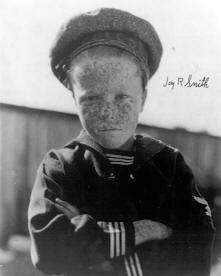 Jay R. Smith was born on 29th August 1915. When he joined up with the little rascals he was already ten years old, still he could stay for the next four years in the serial.
With the begin of the sound film and grow out of the children's shoes, the film business didn't offer any occupation for Jay R. Smith.
During World War II he served in the US Army. After the end of the war he took over a paint business. After his retirement he went to Hawaii but the last years of his life he had spent in Nevada.
The kind of his death has a bitter aftertaste. When his wife died he brought a homeless person in to live with him as a home help. Early in October 2002 his body was found in the desert five miles outside Las Vegas. The police believed he was murdered and considered this home help their main suspect. He was convicted to two life terms in the Nevada State Prison.
Summary of his filmworks:
Noisy Noises (29) Election Day (29) Crazy House (28) Edison, Marconi & Co. (28) Rainy Days (28) Chicken Feed (27) Olympic Games (27) Baby Brother (27) Ten Years Only (27) Seeing the World (27) Dog Heaven (27) Forty-five Minutes from Hollywood (26) War Feathers (26) Monkey Business (26) Good Cheer (26) Better Movies (25) Boys Will Be Joys (25)

---
Jackie Taylor (1925-2014)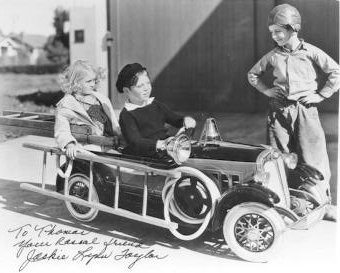 Jackie Lynn Taylor was born in California in 1926 and started her professional career at the age of five as a child actress in motion pictures. Jackie was eight when she, Spanky McFarland and Scottie Beckett began to delight audiences with their antics in the Our Gang comedies. She replaced Dorothy DeBorba who appeared in 24 films over three years.
She only played in five Our Gang episodes but then she was replaced by younger and a lot shorter Darla Hood in 1935.
By 15, she appeared in over 75 motion pictures.
In 1951 her interest shifted from movies to television and she joined KTTV to host a variety show each week. She was very successful and brought her many awards, including that of "TV Woman of the Year".
In a letter to me she finished it with the sentence:
"Remembering childhood in a positive, fun and happy way - I promise, will keep you always young at heart".
Summary of her filmworks:
Hi'-Neighbor! (34) For Pete's Sake! (34) The First Round-Up (34) Washee Ironee (34) Shrimps for a Day (34)

---
Shirley Jean Rickert (1926-2009)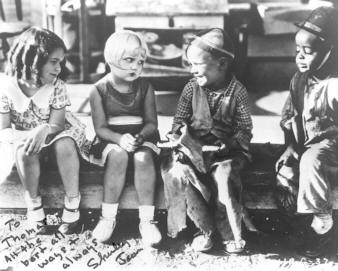 Shirley Jean Rickert Measures already began her career as a baby when she won a baby contest in Seattle. At the the age of 1 1/2 she was introduced to Central Casting in Los Angeles by her mother and her career was off and running.
At the age of five she appeared in the Our Gang episode "Helping Grandma" (31) for the first time. Four more episodes followed. When she left Hal Roach she appeared in the competing "Mickey 'Himself' McGuire" series at the Darmour studio. In the following years she appeared with such stars as John Wayne and Colleen Moore.
During World War 2 she did her bit for the war effort by driving a truck for the Air Corps.
Back at the movie business she had different entrances as a dancer for M-G-M-Musicals like "Meet the People" (44), "Royal Wedding" (51) and "Singing in the Rain" (52).
When work in the movies became scarce she became a stripper in burlesque under the stage name "Gilda". After leaving the night club circuits and burlesque theaters she embarked upon a series of careers both in and ut of show business. She worked as a dress shop saleslady, was owner of a beer bar, was a dressmaker, worked as a secretary and was active in the Booking Dept. of Paramount Pictures. Jobs like jewelry designer, painter, marketing director for a print shop und now as data manager of CPI for the American Cancer Society round off her varied creativity.
Summary of her filmworks:
Little Daddy (31) The Slippery Pearls (31) Bargain Days (31) Fly My Kite (31) 'Neath the Arizona Skies (34) The Scarlet Letter (34) Five Little Peppers In Trouble (40) In Old Oklahoma (43) ABCs of Love (53)

---
Jerry Tucker (1925-2016)

Jerry Tucker was born in Chicago, Illinois in 1925 as Jerry H. Schatz. Jerry Tucker was successful both for film and radio. He was spotted by Paramount executive Albert Kaufman at the boxing club managed by his father, Leonard Schatz.
As a result the family moved to Hollywood where they were soon informed that "Schatz" wasn't suitable. So Jerry Schatz adopted the stage name Tucker.
In 1929 Jerry became the youngest actor ever placed under contract to Paramount Studios. Because he had a good memory in order to learn texts and because of his appearance - red hair, blue eyes and pale skin - he was brought into play for many movies. He appeared among others at Buster Keaton's side in "Sidewalks of New York" (31), with Carole Lombard in "No Man of Her Own" (32), with Laurel & Hardy in "Babes in Toyland" (34), with Jeanette MacDonald in "San Francisco" (36) and with Spencer Tracy in "Boys Town" (38).
But his most prominent role, however, was as the spoiled rich kid in the "Our Gang" comedies. Jerry Tucker's "Our Gang" debut was a minor role in "Shiver My Timbers" (31). From that he went on to work in 18 "Our Gang" comedies including "Hi'-Neighbor" (34), in which he played the rich kid and "Mama's Little Pirate" (34).
Jerry Tucker's father died in 1932 and seven years later he relocated with his mother to New York where he worked in several radio programs including "King Arthur jr." (40-41) and "Twenty Grand Salutes Your Birthday" (41).
In 1942 Jerry Tucker left show business and joined the Navy. He suffered injuries when a kamikaze hit the destroyer USS Sigsbee on which he served. In 1944 Jerry Tucker married Myra Heino and they had two daughters, Karen and Renee. Jerry Tucker did not return to show business after the war. Instead he studied electrical engineering and worked as an engineer for RCA Global Communications until his retirement in 1981.
Summary of his filmworks:
Prosperity (32) Hello, Everybody! (33) Bedtime Worries (33) Wild Poses (33) Sitting Pretty (33) Washee Ironee (34) Shrimps for a Day (34) Anniversary Trouble (35) Beginner's Luck (35) Teacher's Beau (35) Sprucin' Up (35) His Night Out (35) Little Sinner (35) Our Gang Follies of 1936 (35) The Pinch Singer (36) Anything Goes (36) Two Too Young (36) Cavalcade of the West (36) General Spanky (36) Captain January (36) Glove Taps (37) Love in a Bungalow (37) Tovarich (37) Penrod and His Twin Brother (38) Reckless Living (38) Three Men in a Tub (38) Dick Tracy Returns (38) Federal Man-Hunt (38) Dick Tracy's G-Men (90)

---
Mildred Kornman (1925)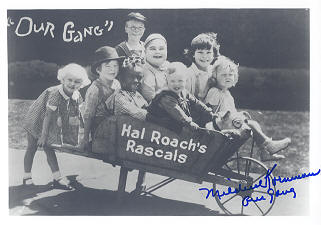 Mildred Kornman was born in California. Her sister Mary Kornman (1915-1973) was already a successful member of Our Gang, therefore it was not surprising that also Mildred Kornman made her film debut with the Little Rascals. To her first still silent episodes belong "Thundering Fleas" (26) with Oliver Hardy in a small role, "The Fourth Alarm" (26), "War Feathers" (26), "Love My Dog" (27), "Baby Brother" (27), "Olympic Games" (27), "Dog Heaven" (27), "Spook Spoofing" (28), "Rainy Days" (28), "Edison, Marconi & Co." (28) and "Barnum & Ringling, Inc." (28), again with Oliver Hardy.
Her last cinematical works came in the 30's into being like "Teacher's Pet" (30), "School's Out" (30), "Birthday Blues" (32), "Fish Hooky" (33), "Little Sinner" (35) and "Our Gang Folllies of 1936" (35).
After her career as a child actress Mildred Kornman became a successful fashion model under the name Ricki van Dusen.
Summary of her filmworks:
Bring Home the Turkey (27) Ten Years Old (27) Playin' Hookey (28) Fair and Muddy (28)

---
Johnny Downs (1913-1994)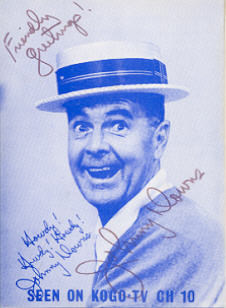 Johnny Downs joined the serial "Our Gang" in 1923 and appeared in more the 20 episodes. To these movies belong "The Champeen" (23), "Circus Fever" (25), "Dog Days" (25), "The Love Bug" (25), "Buried Treasure" (26), "Monkey Business" (26), "Uncle Tom's Uncle" (26), "The Fourth Alarm" (26) and Chicken Feed" (27).
In the 30's he often appeared on stages where he sang and dances, many of these appearances were on Broadway.
He returned to Hollywood in 1934 and continued with it his film career as an adult.
To his numerous movies of those years belong "Babes in Toyland" (34), "Coronado" (35), "The Arizona Raiders" (36), "Clarence" (37), "Blonde Trouble" (37), "Hunted Men" (38), "Algiers" (38), "Bad Boy" (39) and "A Child Is Born" (39).
The stage offered him again a lot of work from the 40's, at the same time his roles in movies became smaller. Still he took part in some popular productions, among them "Melody of Moonlight" (40), "Slightly Tempted" (40), "Redhead" (41), "Harvest Melody" (43), "Rhapsody in Blue" (45) and "The Kid from Brooklyn" (46).
His last cinematical works came in the 50's into being with "Hills of Oklahoma" (50), "Call Me Madam" (53) and "The Caddy" (53).
He became a notion for a whole child generation in the 60's when he led through the TV broadcast "KOGO" where he elated the hearts of children with his funny moderations.
Summary of his filmworks:
Adrienne Lecouvreur (38) Entrée des artistes (38) Accord final (38) La symphonie fantastique (42) La nuit fantastique (42) Mariage d'amour 842) Madame et le mort (43) Malaria (43) Ceux du rivage (43) Le Brigang gentilhomme (43) L'aventure est au coin de la rue (44) L'île d'amour (44) Enquête du 58 (45) François Villon (45) Le jugement dernier (45) Le visiteur (46) Rouletabille joue et gagne (47) Rouletabille contre la dame de pique (48) Le secret de Mayerling (49) Messalina (51) Mon coeur est dans les Highlands (53) Les révoltés de Lomanch (54) La nuit des rois (57) Maigret et l'affaire Saint-Fiacre (59) Le testament du Docteur Cordelier (59) L'ennemi dans l'ombre (60) Vacances en enfer (619 Adorble menteuse (62) Les ennemis (62) La gamberge (62) Denis Asclepiade (62) Arsène Lupin contre Arsène Lupin (62) Oncle Vania (62) Ballade pour un voyou (63) Du rififi à Tokyo (63) Le troisième concerto (63) Judex (63) Thomas l'imposteur (64) Serie "La caméra explore le temps: Le mystère de Choisy" (64) Les pas perdus (64) Esope (65) Le chant du monde (65) Le théâtre de la jeunesse: Sans famille (65) Serie "Corsaires et flibustiers" (66) Serie "Lagardère: Le défilé de Poncorvo" (67) Le théâtre de la jeunesse: Le secret de Wilhelm Storitz (67) Le Franciscain de bourges (68) La bande à Bonnot (69) Le soleis des eaux (69) Serie "Le tribunal de l'impossible: Un esprit nommé Katie King" (70) L'aveu (709 Serie "Le service des affaires classées: Le cilise" (70) Serie "Quentin Durward" (71) Serie "Au théâtre ce soir: Douze hommes en colère" (71) Le Sagouin (72) Serie "Les évasions célèbres" (72) La cerisaie (72) Les dossiers de Me Robineau: Cette mort si proche (72) Serie "L'homme qui revient de loin" (72) La dernière carte (74) Le mouton enragé (74) France société anonyme (74) Serie "Malaventure: Monsieur seul" (74) Le juge et son bourreau (74) Azev: le tsar de la nuit (75) Serie "Les Brigades du Tigre: La couronne du Tsar" (75) Serie "Des Christofffel von Grimmelshausen abenteuerlicher Simplicissimus" (75) Serie "Les cinq dernières minutes: Le lièvre blanc aux oreilles noires" (75) Serie "Erreurs judiciares" (75) Serie "Les mohicans de Paris" (73) Genre masculin (77) Serie "Dossiers: Danger immédiat: La victime choisie" (77) Serie "Recherche dans l'intérêt des familles: Fausse manoeuvre" (77) Le loup blanc (77) Serie "Madame le juge" (78) Serie "Ces merveilleuses pierres" (78) Serie "Le Tourbillon des jours" (79) Le dernier mélodrame (79) Le Loup-Cervier (79) Le procès de Riom (79) Tarendol (80) La vie de pierre de Coubertin (80) Serie "Les dames de coeurs: Un amour d'émir" (80) Serie "Les fiancées de l'empire" (81) Le calvaire d'un jeune homme impeccable (81) Sept hommes en enfer (81) Serie "Martine Verdier" (81) Serie "Les cinq dernières minutes: Un coeur sur mesure" (81) La nuit de Varennes (82) Fort comme la mort (82) Le clou (83) Il quartetto Basileus (83) Serie "Les Brigades du Tigre: La grande duchesse Tatiana" (83) Le génie du faux (85) Claire (86) Serie "Traquenards: L'héritage maudit" (88) La bête féroce (88) Serie "Le enquêtes du commissaire Maigret. Maigret et le témoignage de l'enfant de choeur" (88) La compagnie de Sarah (89) Serie "Haute tension: Eaux troubles" (89) Les matins chagrins (90) Les chevaliers de la table ronde (90) Serie "V comme vengeance: Le billard écarlate" (91) Serie "La Florentine" (91) Listopad (92) La joie de vivre (93)

---
Rex Downing (1925)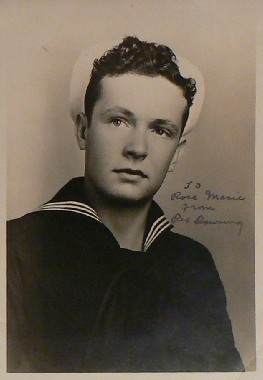 The actor Rex Downing was engaged as a child actor in 1935 for the legendary "Our Gang" serial where he played regularly till 1937 together with his brother Barry Downing.
Besides child stars like Spanky McFarland, Darla Hood, Porky Lee, Buckwheat Thomas and Alfalfs Switzer he took part in "Teacher's Beau" (35), "Little Sinner" (35), "Two Too Young" (36), "General Spanky" (36) and "Glove Taps" (37).
After his time with "Our Gang" followed engagements for feature movies like "Black Bandit" (38), "Mandrake the Magician" (39) and especially "Wuthering Heights" (39) together with the big stars Laurence Olivier, Merle Oberon, Flora Robson and David Niven.
His last movies came in the 40s into being, afterwards he retired from the film business at the age of 23.
to his last appearances in front of the camera belong "Blood and Sand" (41) with Tyrone Power, Anthony Quinn and Rita Hayworth, "The Mayor of 44th Street" (42), "The Invisible Wall" (47) with Jeff Chandler, "The Gangster" (47) with Akim Tamiroff and John Ireland, "Call Northside 777" (48) with James Stewart and Lee J. Cobb as well as "Act of Violence" (48) directed by Fred Zinnemann with Robert Ryan, Janet Leigh and Van Heflin.
After his film career Rex Downing became a teacher near Los Angeles.
Only 60 years later Rex Downing had a one-time comeback in a movie with "Harvest of Redemption" (07).
Summary of his filmworks:
Branded a Coward (35) Our Gang Follies of 1936 (35) The Pinch Singer (36) Little Miss Nobody (36) Pay As You Exit (36) The Pigskin Palooka (37) Nurse Edith Cavell (39) The Escape (39) Adventure in Diamonds (40) The Vanishing Virginian (42) Gas House Kids (46) That Hagen Girl (47) He Walked by Night (48)

---
Lassie Lou Ahern (1920)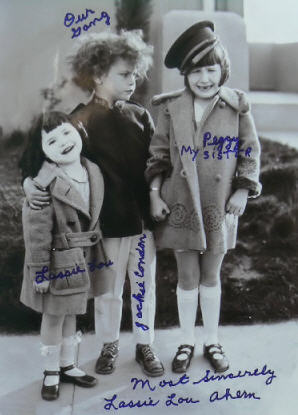 The actress Lassie Lou Ahern was able to lauch a child star career at the beginning of the 20s.
She already made her screen debut at the age of three with "Call of the Wild" (23) beside stars like Jack Mulhall and Walter Long. The movie was produced by Hal Roach who was also responsible for the successful film serial "Our Gang".
For her next movie she was engaged by Hal Roach for his legendary serial "Our Gang" and she took part in "Derby Day" (23) at the side of the Our-Gang stars Joe Cobb, Jackie Condon, Mickey Daniels, Allen "Farina" Hoskins, Ernest Morrison and Mary Kornman.
Other appearances in this serial followed with "Craddle Robbers" (24), "Jubilo, jr." (24), "The Sun Down Limited" (24), "Fast Company" (24) and "Thundering Fleas" (26).
Beside "Our Gang" she also took part in several other motion pictures. To these movies belong "The Family Entrance" (25) with Charlie Chase, "The Dark Angel" with Ronald Colman and Vilma Banky, "Surrender" (27) with Mary Philbin and Ivan Moshukin, "The Forbidden Woman" (27) with Jetta Goudal, Ivan Lebedeff, Victor Varconi and Joseph Schildkraut, "Uncle Tom's Cabin" (27) with Margarita Fischer, James B. Lowe and Virginia Grey -in this movie she played a boy called Harry and "Little Mickey Grogan" (27) with Frankie Darro and Jobyna Ralston.
Afterwards the film career of the young Lassie Lou Ahern came to an end at the age of seven. It lasted till 1973 before she made her comeback in front of the camera with some TV productions.
In the meantime she formed together with her sister Peggy Ahern, who was a child star in the silent movie era as well, the duo "The Ahern Sisters". They toured through nightclubs and luxury hotels where they danced, sang and played instruments.
Later Lassie Lou Ahern became a dancing teacher.
To her last cinematical works belong an episode of the serial "Love, American Style: Love and the End of the Line" (73), an episode of the serial "The Magician: The Illusion of the Curious Counterfeit" (74), an episode of the serial "The Odd Couple: New York's Oddest" (74) and an episode of the serial "Petrocelli: A Fallen Idol" (75).
Other movies with Lassie Lou Ahern:
Robes of Sin (24) Webs of Steel (25) His Wooden Wedding (25) The Lost Express (26)
---
Jackie Davis (1914-1992)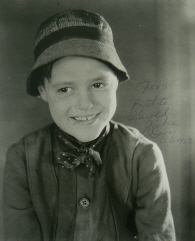 The actor Jackie Davis was born into an artistic ambitioned family. Her sister Mildred Davis was a famous actress who often worked together with Harold Lloyd.

Jackie Davis was engaged for the new created movie serial Our Gang in 1922 and he took part in this serial regularly till the beginning of 1924.
To his movies belong "One Terrible Day" (22), "Young Sherlocks" (22), "The Champeen" (23), "The Big Show" (23), "Giants vs. Yanks" (23), "No Noise" (23) and "Fast Company" (24). In 1925 followed a last appearance with Our Gang with "Mary, Queen of Tots" (25).

When Harold Lloyd got married with Mildred Davis he induced thas Jackie Davis left the film business and joined a military school.
Jackie Davis finished an education as a physician and worked as cardiologist in Los Angeles for many years.

Only in the 40s Jackie Davis returned to the film business and he impersonated support roles in productions like "The Master Race" (44), "Talk about a Lady" (46), "The Hoodlum Saint" (46), "Shadowed" (46), "The Razor's Edge" (46), "Lady in the Lake" (47), "Pursued" (47) and "Malaya" (49).

In the 50s and 60s followed again numerous movies, often for television.
To these works belong "The Guy Who Came Back" (51), an episode of the serial "The Big Story: Willard Haselbush, City Editor of the Denver Post" (54), "Around the World in Eighty Days" (56), an episode of the serial "Father Knows Best: Betty's Career Problem" (60), "From the Terrace" (60), an episode of the serial "Target: The Corruptors: The Golden Carpet" (61) and an episode of the serial "I Dream of Jeannie: Permanent House Guest" (66).

Afterwards followed only occasional appearances in front of the camera like "The Big Doll House" (71), "Getting It On" (83) and "The Blue Lightning" (86).
Other movies with Jackie Davis:
Saturday Morning (22) A Quiet Street (22) The Cobbler (23) A Pleasant Journey (23) Boys to Board (23) Back Stage (23) Dogs of War (23) Lodge Night (23) July Days (23) Stage Fright (23) Derby Day (23) Sunday Calm (23) Drawing Account (41) Up Goes Maisie (46) Behind Green Lights (46) Night Editor (46) Strange Triangle (46) Somewhere in the Night (46) If I'm Lucky (46) The Secret of the Whistler (46) Blondie's Big Moment (47) That Way with Women (47) The Sea of Grass (47) The Millerson Case (47) High Wall (47) Silver River (48) Tap Roots (48) Captain Video and His Video Rangers (49) Serie "Academy Theatre: Summer Comes to the Diamond" (49) Serie "The Big Story: Harry Romanoff, Chicago Reporter" (50) Callaway Went Thataway (51) Serie "The Honeymooners: Funny Money" (55) Serie "The Honeymooners: The Golfer" (55) Serie "The Honeymooners: The $99'000 Answer" (56) Serie "The Phil Silvers Show" (57-58) Serie "Sugarfoot: Blackwater Swamp" (60) Taiheiyo no tsubasa (63) Serie "McHale's Navy: The Monster of McHale's Island" (63) Serie "My Three Sons: Will Success Spoil Chip Douglas?" (64)
---