The director Joe May was born as Julius Otto Mandl in Vienna. He became one of the most important German movie directors in the 10s and in the early 20s.

Before he entered the film business he worked in different professions, among them as a car dealer, lighter salesman and for the textile sector.
Finally he was able to gain a foothold as a director of operettas and there he came in touch with the film business in an unusal way. Because the play "Clo Clo" in which his wife Mia May took part had longer breaks because of reconstructions between the intermissions the audience did not know if the play has ended or not. Sometimes they left the theater in droves to early. Therefore Joe May had the idea to entertain the audience with a movie with the actors of the play during the waiting period. Although unexperience he was able to realize this project. In 1911 followed his first movie for the cinema called "Die Fahrt nach Hamburg" (11).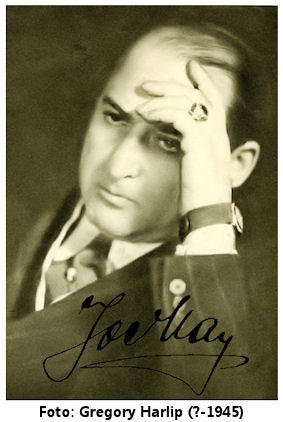 Shortly afterwards followed numerous movie which made Joe May very popular and in many of his movies appeared his wife Mia May in the leading role. He already got married with Mia May in 1902 and later took over her pen name.
Especially his movies with the detective Stuart Webbs (impersonated by Ernst Reicher) and later with the detective Joe Deebs (impersonated by Max Landa) he was very successful and the productions were popular by the audience. Ernst Reich became so famous with this role that he even signed his autograph cards with Stuart Webbs beside his real name.
To Joe Mays movies as a director of those years belong "Ein Ausgestossener" (13), "Stuart Webbs: Das Panzergewölbe" (14), "Das Gesetz der Mine" (15), "Die Sünde der Helga Arndt" (16), "Arme Eva Maria" (16), "Der Onyxkopf" (17), "Die Liebe der Betty Raymond" (17), "Hilde Warren und der Tod" (17), "Das Opfer" (18), "Die Bettelgräfin" (18) and finally "Veritas vincit" (19) - in this movie he linked three episodes from the Romans, from the Middle Ages and the present and all three leading roles were personified by Mia May - and quickend by this success especially the eight-part monumental movie "Die Herrin der Welt" (19). These productions belonged to the first monumental movies in which they spent also a lot of money for the scenery, costumes and so on.

Joe May founded his own production company May-Film GmbH in 1915 and supported other film makers at the beginning of their career. To the great names belong Fritz Lang, Thea von Harbou and Ewald André Dupont.

He realised again numerous great movies in the 20s as a director like "Die Legende der heiligen Simplicia" (20), "Das indische Grabmal - Die Sendung des Yoghi" (21), "Das indische Grabmal - Der Tiger von Eschnapur" (21) - for both movies Fritz Lang and Thea von Harbou wrote the screenplay, "Tagödie der Liebe" (23), "Der Farmer aus Texas" (25), "Dagfin" (26), "Heimkehr" (28) and "Asphalt" (29).

Joe May had to bear a blow of fate in when his daughter, the actress Eva May, committed suicide. Joe May was in the middle of the shooting of "Der Farmer aus Texas" when the message arrived him. As a pro he was forced to organize all the necessary things so that the shooting during his absence could continue smoothly. The film business was merciless, millions were at stake and Joe May knew it.
He couldn't give way to the pain and had to struggle through this phase before he could hurry to his wife.

In the sound film era of the 30s he was able to continue his film career successfully and he realised "Der unsterbiche Lump" (30), "Ihre Majestät die Liebe" (31), "Zwei in einem Auto" (32) and "Ein Lied für dich" (33).
Afterwards his career came to an abrupt end in Germany. Because of his Jewish ancestry he had to leave the land in 1933. He went to England and afterwards to the USA together with Mia May. There he was able to realise few more movies as a director with "Music in the Air" (34), "Confession" (37), "Society Smugglers" (39) and "The House of Fear" (39).

His last cinematical works as a director came in the 40s into being with "The Invisible Man Returns" (40), "The House of the Seven Gables" (40), "You're Not so Tough" (40), "Hit the Road" (41) and "Johnny Doesn't Live Here Any More" (44).

After the end of his film career the May family went through a hard time. Together with Mia May he operated a Viennese restaurant but failed financially. The once celebrated movie director sank into poverty and was depending on the support of friend and the European Film Fund in his last years.

During his longtime career in the film business Joe May was not only active as a director but also as a producer and screen writer. For several screenplays he used the pen name Fred Majo.

What makes a movie successfull Joe May defined in 1928 as follows:
"I have taken the trouble from the beginning to create a movie that appeals to the whole world, which raises the absolute claim of movie art but at the same time comes up to the justified wishes of the public on thrill and entertainment. In my opinion the conditions for a successful movie are: You take thrilling action, add a little mixture of humorous scenes as well as intense sensation. But you avoid spoiling this mixture with too much sensation, because each sensation which is there only for its sake and does not follow on from the logical action of the movie has lost its legitimacy and will be found a nuisance."



Other movies from Joe May (Director):
In der Tiefe des Schachtes (12) Vorgluten des Balkanbrandes (12) Entsagungen (13) Heimat und Fremde (13) Das verschleierte Bild von Gross-Kleindorf (13) Die unheilbringende Perle (14) Stuart Webbs: Die geheimnisvolle Villa (14) Stuart Webbs: Der Mann im Keller (14) Stuart Webbs: Der Spuk im Haus des Professors (15) Das Fischermädchen von Manholm (14) Die Pagode (14) Sein schwierigster Fall (15) Der Geheimsekretär (15) Chrarley, der Wunderaffe (15) In der Nacht (15) Die Gespensteruhr (16) Nebel und Sonne (16) Ein Blatt Papier (16) Wie ich Detektiv wurde (16) Das rätselhafte Inserat (16) Die Silhouette des Teufels (17) Die Kaukasierin (17) Der schwarze Chaffeur (17) Ein Lichtstrahl im Dunkel (17) Das Klima von Vancourt (17) Krähen fliegen um den Turm (17) Die Liebe der Betty Raymond (17) Die Hochzeit im Excentricclub (17) Des Vaters letzter Wille (17) Das Geheimnis der leeren Wasserflasche (17) Wogen des Schicksals (18) Ihr grosses Geheimnis (18) Die Ratte (18) Der Muff (19) Fräulein Zahnarzt (19) Die Schuld der Lavinia Morland (20) Frauen vom Gnadenstein (20) Tobias Buntschuh (21) Am Webstuhl der Zeit (21) Junge Mama (21) Derby (26) Sensation im Wintergarten (29) ...und das ist die Hauptsache!à (31) Paris-Méditerranée (32) Hochzeitsreise zu dritt (32) Voyage de noces (33) Tout pour l'amour (33) Two Hearts in Waltz Time (34) Dactylo se marie (34)

Produzent:
Das Werk (13) Geschwister (13) Das verschleierte Bild von Gross-Kleindorf (13) Der geheimnbisvolle Nachtschatten (14) Das Gesetz der Mine (15) Sein schwierigster Fall (15) Der Geheimsekretär (15) In der Nacht (15) Die Sünde der Helga Arndt (16) Die Gespensteruhr (16) Nebel und Sonne (16) Ein Blatt Papier (16) Wie ich Detektiv wurde (16) Arme Eva Maria (16) Die Silhouette des Teufels (17) Die Kaukasierin (17) Hilde Warren und der Tod (17) Der Onyxknopf (17) Der schwarze Chaffeur (17) Ein Lichtstrahl im Dunkel (17) Das Klima von Vancourt (17) Krähen fliegen um den Turm (17) Die Liebe der Betty Raymond (17) Des Vaters letzter Wille (17) Das Geheimnis der leeren Wasserflasche (17) Sein bester Freund (18) Wogen des Schicksals (18) Das Opfer (18) Fünf Minuten zu spät (18) Das rollende Hotel (18) Ihr grosses Geheimnis (18) Die Ratte (18) Die Bettelgräfin (18) Diplomaten (18) Die Krone vonPalma (19) Das Auge des Götzen (19) Die platonische Ehe (19) Der Muff (19) Der blaue Drahcen (19) Veritas vincit (1) Die närrische Fabrik (19) Die Herrin der Welt (19) Fräulein Zahnarzt (19) Der Amönenhof (20) Der Henker von Sankt Marien (20) Die Legende von der heiligen Simplicia (20) Die Schuld der Lavinia Morland (20) Das wandernde Bild (20) Das indische Grabmal – Die Sendung des Yoghi (21) Das indische Grabmal – Der Tiger von Eschnapur (21) Tobias Buntschuh (21) Am Webstuhl der Zeit (21) Junge Mama (21) Die Erbin von Tordis (21) Ilona (21) Der Leidensweg der Inge Krafft (21) Scheine des Todes (23) Tragödie der Liebe (23) Der geheime Agent (24) Liebesbriefe der Baronin von S. (24) Der Farmer aus Texas (25) Derby (26) Staatsanwalt Jordan (26) Dagfin (26) Die Durchgängein (28) Der unsterbliche Lump (30) Die letzte Kompagnie (30) Ihre Majestät die Liebe (31) ...und das ist die Hauptsache!à (31) Zwei in einem Auto (32)

Drehbuch:
In der Tiefe des Schachtes (12) Vorgluten des Balkanbrandes (12) Ein Ausgestosssener (13) Heimat und Fremde (13) Die unheilbringende Perle (14) Stuart Webbs: Das Panzergewölbe (14) Das Fischermädchen von Manholm (14) Der ewige Friede (15) Das Gesetz der Mine (15) Der Geheimsekretär (15) Charley, der Wunderaffe (15) Die Sünde der Helga Arndt (16) Die Gespensteruhr (16) Nebel und Sonne (16) Ein Blatt Papier (16) Wie ich Detektiv wurde (16) Ein einsam Grab (16) Das rätselhafte Inserat (16) Arme Eva Maria (16) Die Kaukasierin (17) Der Onyxknopf (17) Der schwarze Chaffeur (17) Ein Lichtstrahl im Dunkel (17) Das Klima von Vancourt (17) Die Liebe der Betty Raymond (17) Das Geheimnis der leeren Wasserflasche (17) Sein bester Freund (18) Wogen des Schicksals (18) Das Opfer (18) Fünf Minuten zu spät (18) Ihr grosses Geheimnis (18) Die Bettelgräfin (18) Die platonische Ehe (19) Veritas vincit (1) Die närrische Fabrik (19) Die Herrin der Welt (19) Fräulein Zahnarzt (19) Die Schuld der Lavinia Morland (20) Frauen vom Gnadenstein (20) Junge Mama (21) Der Farmer aus Texas (25) Dagfin (26) Heimkehr (28) Ungarische Rhapsodie (28) Asphalt (29) Maman Calibri (29) Dactylo se marie (34) Music in the Air (34) No Monkey Business (35) The Invisible Man Returns (40) The Invisible Woman (40) The Strange Death of Adolf Hitler (43) Uncertain Glory (44) Bucaneer's Girl (50)

Darsteller:
Vorgluten des Balkanbrandes (12)

Filmausstatter:
Ein einsam Grab (16)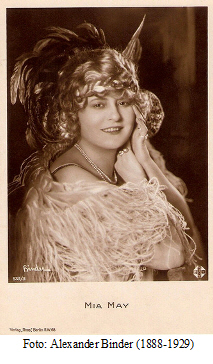 The actress Mia May was born as Hermine Pfleger in Vienna.

She began her acting career already at the age of five when she appeared on stage for the first time. She was engaged for child roles regularly in the next years till she was 14.

She was able to continue her stage career as an adult and she called herself Herma Angelot. In 1902 she got married with Julius Otto Mandel and she also chose a new pen name and called herself Mia May. Her husband adopted her pen name when he entered the film business. As Joe May he became one of the most important directors and producers of the German silent film.

Mia May made her film debut under the direction of her husband with "In der Tiefe des Schachtes" (12) and both worked together intensively in the next years. Mia May became one of the first movie divas and ranked in a list of great names like Asta Nielsen, Henny Porten and Pola Negri regarding popularity.

To her other movies of the 10s belong "Ketten der Vergangenheit" (14), "Stuart Webbs. Die geheimnisvolle Villa" (14), "Die Sünde der Helga Arndt" (16), "Arme Eva Maria" (16), "Hilde Warren und der Tod" (17), "Wogen des Schicksals" (18), "Ihr grosses Geheimnis" (18), "Veritas vincit" (19) and especially the eightpart cinema serial "Die Herrin der Welt" (19-20). This production belongs to the first monumental movies which also spent a lot of money for the scenery, costumes et cetera.

The film career of Mia May diminished in the 20s and she was confronted with a number of new and younger competitors. Among them was also her daughter Eva May who launched an impressive film career and became very popular.

To the last movies of Mia May belong "Die Schuld der Lavinia Morland" (20), "Das wandernde Bild" (20), "Das indische Grabmal – Die Sendung des Yoghi" (21), "Das indische Grabmal – Der Tiger von Eschnapur" (21), "Der Leidensweg der Inge Krafft" (21) and "Tragödie der Liebe" (23).

Her last cinematical work was "Liebesbriefe der Baronin von S." (24).
When her daughter Eva May committed suicide in 1924 at the age of only 22 her world collapsed and she retired from the film business for good.

With the rise of the National Socialism in Germany she emigrated togehter with Joe May to the USA. When his film career came to an end there they managed a Viennese restaurant which was not very successful.
After the death of ther husband she remained in the USA where she died at the old age of 96 in Los Angeles.

During her active career Mia May was not only busy as an actress but was also responsible as managing director of the May-Film GmbH which was founded in 1915. Besides she was also active as cutter and screen writer for movies of Joe May.



Other movies with Mia May:
Wer hebt den Stein? (13) Sein schwierigster Fall (15) Charley, der Wunderaffe (15) In der Nacht (15) Die Gespensteruhr (16) Nebel und Sonne (16) Ein einsam Grab (16) Die Silhouette des Teufels (17) Der schwarze Chauffeur (17) Ein Lichtstrahl im Dunkel (17) Die Liebe der Betty Raymond (17) Das Opfer (18) Fünf Minuten zu spät (18) Die Bettelgräfin (18) Die platonische Ehe (19) Fräulein Zahnarzt (19) Der Amönenhof (20)


The actress Eva May was born as Eva Maria Mandl in Vienna. She was the daughter of the actress Mia May and the director Joe May and she launched a very successful film career too.
She grew up in the atelier of her father quasi and she experienced the atmosphere of the film business very close.

She already made her film debut at the age of 12 under the direction of her father in "Stuart Webbs: Die geheimnisvolle Villa" (14). In the next years she worked together with her parents now and then.
Till 1920 she nearly worked exclusively for the director Manfred Liebenau called Erik Lund, afterwards she was also engaged by other well-known directors. Liebenau was the manager of the Ring-Film GmbH and Eva May took part at the screenplays during her active time there.

To her first silent movies belong "Erträumtes" (18), "Die verwunschene Prinzessin" (19), "Die Herrin der Welt, 1. Teil: Die Freundin des gelben Mannes" (19), "Staatsanwalt Jordan" (19) and "Das Gebot der Liebe" (19).

Eva May got many positive reviews and became "Jedermanns Liebling" in no time.

The versatile artist could establish her film career in the 20s and she worked for popular directors like Max Mack, Georg Jacoby and Karl Grune.
To her well-known movies of those years belong "Schloss Einöd" (20), "Der Henker von Sankt Marien" (20), "Die Amazone" (21), "Der Graf von Charolais" (22), "Alt Heidelberg" (23), "Paganini" (23) and "Der geheime Agent" (24).

Privately Eva May was regarded as very difficult and sometimes freakish. She often argued with her father but also her numerous marriages did not last very long.

She got married for the first time at the age of only 16 with her director Erik Lund. After the divorce she got married with the director Lothar Mendes but this marriage was separated too shortly afterwards. It followed her third marriage, this time with the director Manfred Noa. This marriage failed as well.

Eva May continued to look for support or security and she got engaged with the filmworker Rudolf Sieber. But he broke the engagement and got married with the actress Marlene Dietrich instead of that.
Eva May reacted extreme to these rejection and she slit her wrists. But the suicide attempt failed.

When she tried to get Fritz Mandl's attention, an industrialist and her cousin as well, she failed again becaused he didn't have any ambition to marry her. This caused again a mental crisis by Eva May. She took a gun and ended her life by suicide.

Her mother Mia May was shocked in such a manner that she finished her own film career immediately. She never returned in front of the camera.


Other movies with Eva May:
Sadja (18) Der lebendige Tote (18) Das törichte Herz (19) Irrlicht (19) Stürme (19) Schwarze Perlen (19) Die Fee von Saint Ménard (19) Das Hohelied der Liebe (19) Die Braut des Entmündigten (19) Zwischen Lachen und Weinen (19) Im Wirbel des Lebens (20) Die Legende von der heiligen Simplicia (20) Junge Mama (21) Seine Exzellent von Madagaskar (22) Der Graf von Essex (22) Fridericus Rex, 3. Teil: Sanssouci (23) Die Fledermaus (23) Scheine des Todes (23)