John Rappeport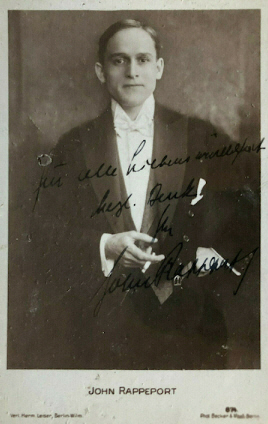 1887 - 1974
.
.
The actor John Rappeport was active at the theater in the first place. He appeared on stages in Meiningen and finally in Berlin.

He entered the film business in 1917 with "Die Memoiren des Satans, 2. Teil" Fanatiker des Lebens" (17).

He continued his career as a movie actor in the early 20s with the silent movies "Die Abenteuer des Marquise von Königsmark" (20), "Die Blitzzentrale" (21), "Rote Spuren" (21) and "Der Todesflieger" (21).

In 1918 John Rappeport also realised two movies as a director with "Das Glücksmädel" (18) and "John und Jonny" (18).