Max Nadler

Fotos: Hanns Holdt (1887-1944)
1875 - 1932
.
.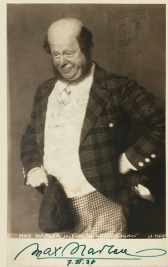 The actor Max Nadler appeared regular at the theater since 1894. He began his career in Ingolstadt, only one year later he already acted at the Hoftheater in Munich where he remained till to the end of his career.

In Munich he became established as a comedian, beside it he also realised numerous plays as a director.

Max Nadler only appeared seldom in front of the camera.
In his first movie "Der Totenkopf" (20) he played together with Viktor Gehring , Harry Nestor and Friedrich Ulmer.

He impersonated the role of the detective Wellendorf in "Die vierzig Sterbenden" (22) which was his last silent movie at the same time.

His last cinematical works came at the beginning of the 30s into being.
He played Mathias in the production "Zwei in einem Auto" (32) directed by Joe May with Karl Ludwig Diehl, Magda Schneider, Richard Romanowsky, Ernst Verebes and Kurt Gerron and he was the mayor in Max Ophüls's "Die verkaufte Braut" (32) at the side of Jarmila Novotna, Otto Wernicke, Paul Kemp, Karl Valentin and Liesl Karlstadt.

Max Nadler died shortly before his 57th birthday because of a sepsis which was caused by a toot disease.