Ernst Leudesdorff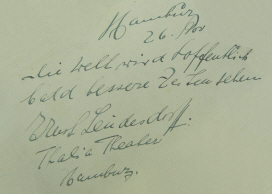 1885 - 1954
.
.
The actor Ernst Leudesdorff began his career at the theater where he appeared as an actor at the beginning. Later he also became a manager of the Thalia theater where he appeared as an actor in 1915 for the first time.

Ernst Leudesdorff remained active at the Thalia theater for the next decades and was very successful. As a manager he carried on the theater from 1936 to 1942 together with Paul Mundorft.

Ernst Leudesdorff only appeared seldom in front of the camera.
He played the role of Dr. Reinhardt in the movie "Mit versiegelter Order" (38) with Viktor de Kowa, Paul Hartmann, Rudolf Schündler, Paul Westermeier and Hans Richter.
It followed as provincal court director Brant "Was tun, Sybille?" (38) at the side of Jutta Freybe, Charlotte Schellhorn, Inge Landgut, Hermann Braun and Hans Leibelt as well as Erich Engels' "Dr. Crippen an Bord" (42), where he impersonated a court chairman with Rudolf Fernau, René Deltgen, Rolf Weih, Max Gülstorff, Paul Dahlke, O.E. Hasse and Wilhelm Bendow.