Bertram Wallis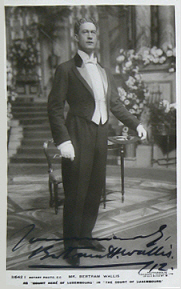 1874 - 1952
.
.
The actor Bertram Williams studied vocals at the Royal Academy of Music which he finished with an award.
Afterwards he made his stage deubt with the play "As You Like It" (1896). His breakthrough followed at the beginning of the 20th century when he took part in numerous musicals und operettas, among them "The Musketeers" (01), "Three Little Maids" (02) and "The Love Birds" (04).

Finally a tour led him from England to the USA where he appeared in several Broadway plays like "A Madcap Princess" (04), "Princess Beggar" (07) and "Miss Hook of Holland" (07).

After his return to London he continued his career successfully with musicals and he also wrote the libretto for "Betty's Little Joke" with the music of Cola Robinson. With his appearances in comedy musicals like "The Happy Day" (16) and "A Southern Maid" (20) he entertained a huge audience.

During this time Bertram Wallis made his film debut although he only took part in movies sporadically.
His first movie was "The Cost of a Kiss" (17) with Marjorie Day. In this movie he played the role of Lord Darlington. It followed his last silent movie with "Victory and Peace" (18) directed by Herbert Brenon with Matheson Lang, Marie Lohr, James Carew and Ellen Terry.

Bertram Wallis impersonated many character roles on stage in the 20s and 30s, among them in "Madame Pompadour" (23), "So This Is Love" (29) and "A Waltz Dream" (35).

After a long lasting interruption Bertram Wallis also appeared in front of the camera again from 1933.
To his movies of those years belong "The Wandering Jew" (33) as Prince Bohemund of Tarentum with Conrad Veidt, Marie Ney, Basil Gill and Ann Grey, the short movie "A Dream of Love" (38) with Cathleen Nesbitt, as a smuggler in "Chips" (38), John Baxter's "The Shipbuilders" (43) with Clive Brook and Morland Graham as well as playing the role of Duke of Wetherby in "Twilight Hour" (45) with Basil Radford, Marie Lohr, Ian McLean and A.E. Matthews.