Dorothy Dickson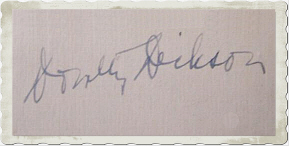 1893 - 1995
.
.
The actress Dorothy Dickson was born in Kansas City geboren and became a famous theater star in London.
She first began her career as a dancer in a dancing hall in New York, later she appeared on Broadwy in plays like "Oh Boy" (17) by Jerome Kern and "The Royal Vagabond" (19) by George M. Cohan, where she appeared together with her husband Carl Hyson.

When she went to London with her husband in 1921 she was able to achieve an enormous success with the play "Sally" when she interpreted the song "Look for the Silver Lining". It followed other successful productions like "The Cabaret Girl" (22), "The Beauty Prize" (23), "Peter Pan" (25), "Tip Toes" (26), "Peggy Ann" (27) and "Hold Everything" (29).

Dorothy Dickson made her film debut already in 1919 with "Eastward Ho!" (19). She continued her film career after her migration to London with the silent movies "The Silver Lining" (21), "Paying the Piper" (21) and "Headin' North" (21), afterwards followed a longer interruption and she devoted to the theater again.

In the 30's followed her last cinematical appearances in "La route est belle" (30), "Channel Crossing" (33), "Danny Boy" (34) and "Sword of Honour" (38). "Paying the Piper" (49) was her last movie.
Beside it she still had great success in stage plays and revues like "Casanova" (32), "Easter Parade" (35), "Spread It Abroad" (36), "Careless Rapture" (36) and "Crest of the Wave" (37).

Also during wartime her stage career remained undiminished. She had her last performance at the age of 87 at the Duke of York's theater in memory of 75 years Peter Pan.

Dorothy Dickson died at the age of 102. Her daughter Dorothy Hyson became also an actress.