Marjorie Day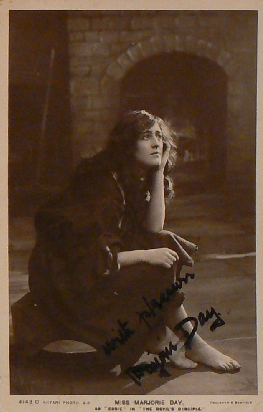 1889 - ?
.
.
Die Schauspielerin Marjorie Day trat in der Stummfilm-Ära in einigen Stummfilmen auf, doch ihr Hauptaugenmerk galt dem Theater.

Ihrer erster Film enstand 1916 mit "When Knights Were Bold" (16), es folgten "The Woman Who Was Nothing" (17), "The Cost of a Kiss" (17) und "Damaged Goods" (19).

In den 20er Jahren blieben ihre Auftritte vor der Kamera die Ausnahme, u.a. agierte sie in "The Story of the Rosary" (20), "Sinister Street" (22), "The Glorious Adventure" (22), "A Prince of Lovers" (22) und "The Fighting Marine" (26).

Danach zog sie sich aus dem Filmgeschäft zurück. Sie kehrte nur noch einmal auf die Leinwand zurück mit "Facing the Music" (41), welcher gleichzeitig auch ihr einziger Tonfilm war.