Esme Beringer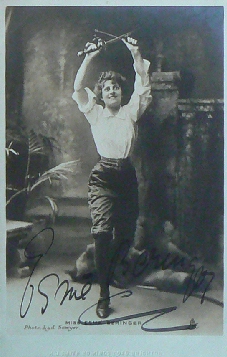 1875 - 1972
.
.
The actress Esme Beringer was busy at the theater and because of an education in fancing she often was engaged for adventurously and sporty roles.

Esme Beringer only took part in one silent movie called "All the World's a Stage" (17).

It lasted till 1947 before Esme Beringer made a comeback in front of the camera at the age of 72.
To her last movies belong "The October Man" (47), "Dark Secret" (49), "Something in the City" (50), "Seven Days to Noon" (50), "Craven House" (50), "The Monster of Killoon" (52) and "Castle in the Air" (52).

Her brother George Silver was also a stage actor and her sister Vera Beringer (1879-1964) was a very popular actress at English theaters.