Mizzi Zwerenz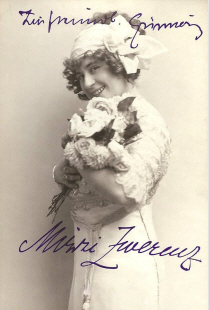 Foto: Ludwig Gutmann (1869-1943)
1876 - 1947
.
.
The actress Mizzi Zwerenz was born into an artistic family. Both her father Karl Ludwig Zwerenz and her mother Mutter Eveline Zwerenz were stage actors. Even her grandfather Karl Zwerenz and her great-grandfather Karl Ludwig Costenoble were both theater actors in Austria, among others at the Burgtheater.

Genetically disposed Mizzi Zwerenz took acting lessons and she made her stage debut in Baden near Vienna as a soubrette.
In the next years followed numerous engagements for operettas and theater plays which led her till Russia.

Mizzi Zwerenz occasionally appeared in front of the camera from 1920, her first movie was "Die neuen Reichen" (20).
It followed other silent movies with "Könige des Humors" (22), "Der Feldherrnhügel" (26), "Schützenliesel" (26) and "Die kleine Veronika" (29).

Her last cinematical works came in the sound film era of the 30s into being like "Tanzmusik" (35), "Ein Walzer um den Stephansturm" (35) and "Der Mann, von dem man spricht" (37). Shortly afterwards she retired from the show business.

Mizzi Zwerenz was married with the actor Arthur Guttmann.