Carl von Zeska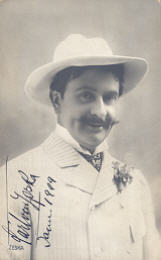 1862 - 1938
.
.
The actor Karl Zeska was as Carl von Zeska a demanded actor at Austrian theaters.

He only appeared seldom in movies, to these works belong the silent movies "Verfehltes Leben" (21) and the talkies "Ausflug ins Leben" (31), "Frühlingsstimmen" (33), "G'schichten aus dem Wienerwald" (34) and "Die Pompadour" (35).

In 1913 he realised the controversial movie "Walzerkönig/Johann Strauss an der schönen blauen Donau" as director and played the title role as well.

His son Philipp von Zeska became also a well-known actor.