Fritz Wrede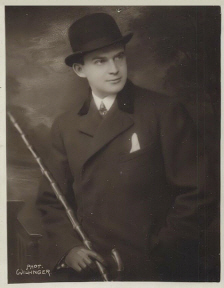 Foto: Wilhelm Willinger (1879-1943)

? - ?
.
.
The actor Fritz Wrede was a regular guest on stage, in movies he only appeared sporadically.

In his first movie "Bigdan Stimoff" (16) directed by Georg Jacoby he played at the side of Georg Reimers, Carl Goetz and Lotte Medelsky.

Afterwards he acted again under the direction of Georg Jacoby in "Das zweite Leben" (16) with Fritz Kortner, Carl Goetz and Hans Lackner.

In "Das Ende vom Liede" (19) he impersonated the role of the banker Holst with Asta Nielsen, Marga Köhler and Julius Geisendörfer.

His last cinematical work was "Wien, du Stadt der Lieder" (23) with Franz Glawatsch, Max Ralph-Ostermann, Alice Hechy and the far too early deceased Anita Berber.