Arete Woltze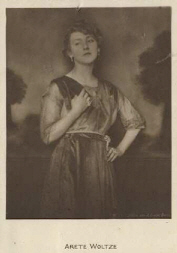 Foto: Alexander Binder (1888-1929)

? - ?
.
.
The actress Arete Woltze was only active in the film business for a brief time and her activity in movies was limited to the year 1917.

In that year she took part in the productions "Nachts um ein Uhr" (17) with Cläre Praetz and Karl Braun, "Jede Hand dem Vaterland" (17) with Hermann Seldeneck and Karl Moos as well as two movies with her name in the title - "Aretes Ferienreise" (17) with Gerhard Dammann, Hansi Dege, Johanne Ewald and Thea Sandten and "Arete macht das Rennen" (17).

All these movies were directed by Reinhold Flügel.