Walter-Wolff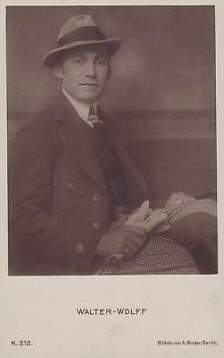 Foto: Alexander Binder (1888-1929)


? - ?
.
.
The actor Walter-Wolff (also written without hyphen Walter Wolff) launched a brief film career in 1916.

Already in his first year in the film business he took part in several productions, among them Richard Eichberg's "Leben um Leben" (16) with Ellen Richter and Erich Kaiser-Titz, "Der gelbe Ulster" (16) with Max Laurence and Hans Mierendorff, "Die grüne Phiole" (16) with Theodor Loos and Lupu Pick, "Die vertauschte Braut" (16) with Lu Synd and Werner Krauss and "Geopfert" (16) directed by Walter Schmidthässler with Olga Engl and Grete Weixler.

After an interruption of several years followed his last cinematical works in 1921 with "Der heilige Hass" (21) directed by Manfred Noa and "Am Narrenseil" (21) with Max Schreck and Grete Reinwald.