Ria Witt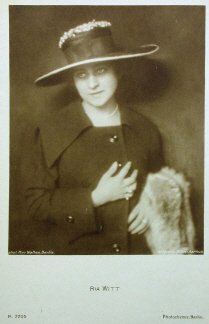 Foto: Mac Walten (1872-1936)

1896 - ?
.
.
The actress Ria Witt was born as Maria Wittlich in Wattenscheid.

With her move to Berlin she became an actress and from 1917 she also took part in few silent movies.

In her first movie "Des Prokurators Tochter" (17) she played the role of the daughter of the attorney with Hermann Thimig, Adolf Klein and Grit Hegesa.

In the next years she acted always under the direction of Bruo Ziener in the productions "Des Vaters schuld" (18) with Olga Engl, Albert Paul and Ernst Pittschau, "Maria" (19) with Erwin Fichtner, Frida Richard, Heinrich Schroth and Arthur Schröder, "Die Sekretärin des Gesandten" (19) at the side of Fritz Spira, Emil Sondermann and Kurt Katsch, "Die Ehe aus Hass" (19) playing the role of Ricarda with Ernst Pittschau and Fritz Spira as well as nursery nurse in "Das Recht auf Glück" (19) with Hanne Brinkmann, Marga Köhler and Eduard von Winterstein.