Erik Wirl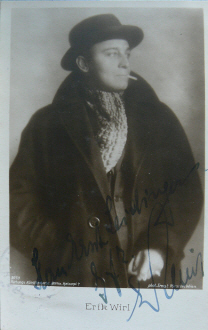 Foto: Ernst Förster (1879-1943)

1902 - 1969
.
.
The actor and singer Erik Wirl got a singing education by Eduard F. Schuegraf and he made his artistic debut for the opera "Tristan und Isolde" in Munich.
In the next years followed among others engagements as an opera singer in Bayreuth, Berlin, Frankfurt, Cologne and Leipzig but also in international cities like Vienna, Buenos Aires, Budapest, Den Haag and Paris.

Besides his activity at the opera - often for works of Franz Schreker - he also appeared in operettas and he sung hits of that time.

He entered the film business in 1921.
His first movie was "Tanja, die Frau an der Kette" (21) with Lya Mara, Erich Kaiser-Titz, Heinrich Peer, Fritz Schulz, Maria Forescu and Harry Berber.

Eight years later followed the production "Eine kleine Liebelei" (29).

His last cinematical works came in the early sound film era of the 30s into being.
To these movies belong "Kriminalreporter Holm" (32) directed by Erich Engels with Hermann Speelmans, Elga Brink, Julius Falkenstein, Harry Hardt, Hugo Flink , Gerhard Bienert and Gerhard Dammann as well as Armand Tonnére the movie "Grossstadtnacht" (32) at the side of Dolly Haas, Ivan Kostal-Samborsky, Trude Berliner, Fritz Kampers, Hans Deppe, Wilhelm Diegelmann, Julius Falkenstein, Paul Heidemann and a young Inge Meysel.