Edi Winterfeld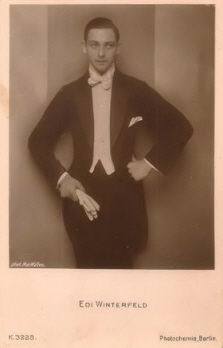 Foto: Mac Walten (1872-1936)
1895 - 1945
.
.
The actor Edi Winterfeld was active on stage in the first place. He only appeared rarely in front of the camera.

In his first movie "Das Mädchen mit dem fremden Herz" (19) directed by Franz Hofer he acted at the side of Bruno Eichgrün, Olga Engl, Magnus Stifter and Rudi Wehr.

Nearly 20 years later followed his next cinematical appearance for the director Carl Froelich for the production "Die ganz grossen Torheiten" (37) with Paula Wessely, Rudolf Forster, Hilde Wagener, Gustav Waldau and Hedwig Bleibtreu.

Edi Winterfeld committed suicide in Montevideo, Uruguay after he got in financial problems because of his operetta productions.

His brother was the composer Jean Gilbert, born as Max Winterfeld.