Werner Siegert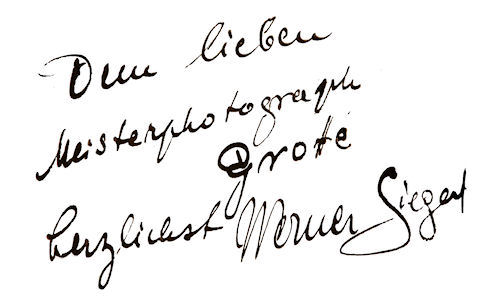 1908 - ?
.
.
The actor Werner Siegert made his screen debut in 1937 with the production "Die Kreutzersonate" (37). In this movie he impersonated the role of the card player Maxim Wassilowitsch at the side of Lil Dagover, Peter Petersen, Albrecht Schoenhals, Hilde Körber, Wolfgang Kieling, Paul Bildt and Hugo Flink.

Afterwards followed "Die guten Sieben" (40) directed by Wolfgang Liebeneiner with Johannes Riemann, Käthe Haack, Carola Höhn, Gerda Maurus, Alice Treff, Maria Bard, Harald Paulsen and Hermann Brix.

Again for Liebeneiner he took part in "Ich klage an" (41) with Heidemarie Hatheyer, Paul Hartmann, Mathias Wieman, Margarete Haagen, Christian Kayssler, Charlotte Thiele, Harald Paulsen and Albert Florath.

His last cinematical work was "Die Entlassung" (42) by Wolfgang Liebeneiner with Emil Jannings, Margarete Schön, Christian Kayssler, Theodor Loos, Karl Ludwig Diehl, Werner Hinz, Werner Krauss and Paul Bildt.