Turl Wiener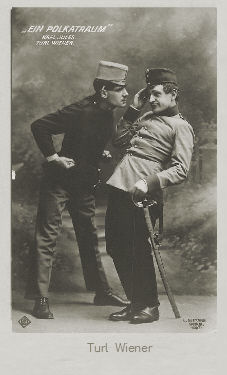 Foto: Ludwig Gutmann (1869-1943)

1875 - 1971
.
.

The comedian and singer Turl Wiener was born as Theodor Windbrechtinger in Aspern. He had his greatest successes on stage where he was active as an actor, operetta singer and a vaudeville artist. He reached a huge audience with his often comical lyrics.

He began his professional career at the end of the 19th century and he went on tour through Austria. Finally he was engaged at the vaudeville theater Colosseum in Vienna in 1902 where he remained active for the next ten years.

In 1912 he realised an ambitious undertaking. He took over the circus Busch and created his own vaudeville theater out of it. But in 1914 he had to close it again because of financial reasons.

In the next years Turl Wiener appeared at the comedy theater in the Prater, he was a co-director of the Komödienhaus from 1919 and he took part at the Bunte Bühne from 1943.

Because of his popularity Turl Wiener also took part in some silent movies as an actor.
His first appearance in front of the camera was "Habn's kan Dragoner g'seh'n?" (18) with Fritzi Rolly.

In the 20s came several movies with Turl Wiener into being, among them "Könige des Humors" (22) with Fritzi Rolly and Gustav Werner, "Im Reich des Wiener Gassenhauers" (23) with Fritzi Rolly and Hans R. Körber as well as "Rund um den Prater" (26) with Erna Berger and Richard Bayer-Barleton.

Turl Wiener was among others married with the singer Fritzi Rolly. They worked together for many years as well.

There is a detailed report about Turl Wiener at the Wiener Volksliederwerk.