Grete Wiesenthal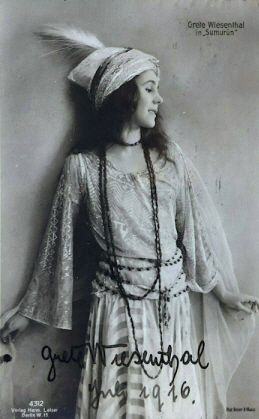 Foto: Becker & Maass (Atelier 1902-1938)

1885 - 1970
.
.
The actress, choreographer and dancer Grete Wiesenthal learnt her ballet abilities at the Hofoper in Vienna where she got lessons from 1895.

From 1901 she worked at this opera as a dancer for the next six years and she soon became the main dancer of the ballet.

In 1908 she took the plunge into the independency and she founded together with her sisters Bertha and Elsa a dancing group dedicated to the modern dance.

From 1910 she appeared again on well-known stages, often in Austria.
There she also founded a dancing school in 1917.

She was engaged by Max Reinhardt as a choreographer for some important plays, among them the famous "Sumurun".

For the ballet "Der Taugenichts von Wien" based on her own text she was also responsible for the direction.

Grete Wiesenthal was also able to appear in few movies from 1912.
Her first movie was "The Miracle" (12), it followed the productions "Das fremde Mädchen" (13), "Kadra Safa" (14), "Die goldene Fliege" (14), "Erlkönigs Tochter" (14) and "Der Traum des Künstlers" (19).

Her next engagement for the film business only followed in 1948 as a choreographer for "Der himmlische Walzer" (48).