Theodor Weiss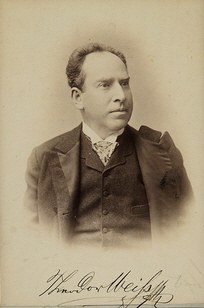 Foto: Charles Scolik (1854-1928)

1857 - 1942
.
.
The actor Theodor Weiss began his career at the theater where he appeared on stage in the play "Ultimo" in Steyr for the first time. It followed engagements in Brünn, Salzburg, Budapest, Hamburg und Vienna

Theodor Weiss was only seldom active in the film business, the first already in 1911 in "Der Müller und sein Kind" (11).

In the next years followed few other silent movies like "Freier Dienst" (18), "Die Jüdin von Toledo" (19), "Enis Aldjelis, die Blume des Ostens" (20) and "Die trennende Brücke" (22).

During World War II the Jew Theodor Weiss was deported and murdered in 1942.