Molly Wessely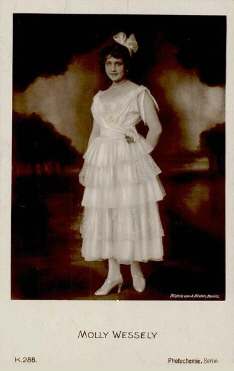 Foto: Alexander Binder (1888-1929)
1889 - 1963
.
.
The actress Molly Wessely only appeared for a short time in the German silent film.
She made her film debut in 1914 with "Luli, die Löwentänzerin" (14) and experienced first successes with the productions "Baccarat" (19), "Die Sylvesterwette" (19), "Frau Hempels Tochter" (19) and "Hannemann, ach Hannemann" (19).

In the following year she already appeared in ther last cinematical works like "Die Beichte einer Toten" (20) and "Wer nicht in der Jugend küsst" (20).