Trude Wessely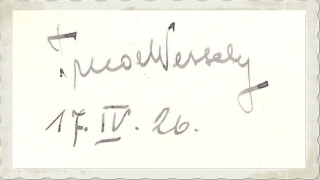 1899 - 1978
.
.
The actress Trude Wessely began her career at the theater and she played among others in Hamburg, Oldenburg, Dresden, Münster and Göttingen. She joined the film business in the 20s where she impersonated few roles.

She took part in the productions "Grossstadtgift" (20) directed by Jakob and Luise Fleck with Karl Ehmann, Dora Kaiser and Wilhelm Klitsch, "Hemmungslos" (22) directed by Karl Ehmann at the side of Eugen Neufeld and Josef Recht, Max Neufeld's "Faustrecht" (22) with Karl Ehmann, Eugen Neufeld, Max Neufeld, Julius Strobl and Felix Dombrowsky and as Lily "Gehetzte Menschen" (24) directed by Erich Schönfelder with Lucy Doraine, Johannes Riemann, Hans Albert, Rudolf Lettinger, Leonhard Haskel, Ilka Grüning, Hugo Werner-Kahle, Ferdinand Martini, Erich Schönfelder and Albert Paulig.

It followed a longer interruption before she appeared in her only sound film. She played the role of Mrs. Werndorff in Carl Boese's "Heiraten - aber wen?" (38) at the side of Paul Hörbiger, Rolf Wanka, Karin Hardt and Rudolf Carl.

Trude Wessely was married with the director and writer Renato Mordo.