Rosy Werginz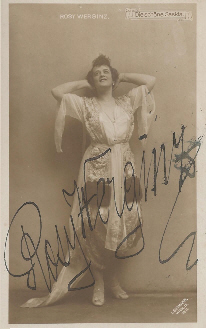 Foto:Ludwig Gutmann (1869-1943)
1890 - 1965
.
.
The actress Rosy Werginz was active on stage in the first place - she only appeared rarely in the film business.

She began her stage career as an actress and singer in 1911 in Troppau. It followed engagements in Pressburg, Salzburg, Bremen, Berlin, Munich and Vienna.

Her first movie came in 1915 into being with "Im Banne der Vergangenheit" (15) directed by Harry Piel. To her co-stars belonged Erich Kaiser-Titz and Fritz Kortner.

It lasted more than 30 years before she appeared again in front of the camera. Playing the role of Semiramis she took part in Paul Martin's "Praterbuben" (46) at the side of Fritz Imhoff, Hermann Thimig and Alfred Neugebauer.