Fritz Werner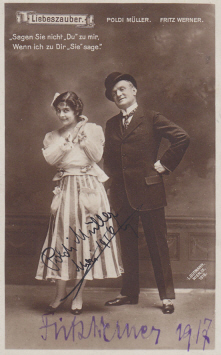 Foto:Ludwig Gutmann (1869-1943)
1871 - 1940
.
.
The actor, singer and composer Fritz Werner began his singing career at the Volkstheater in Rudolfsheim in 1892. In the next years followed engagements in Cologne and Bonn.
He was also very successful with operettas and he appeare at the Theater an der Wien from 1896 and afterwards he went on tour through Russia. Later followed engagements in Berlin.
One of his most successful performances was "Ein Walzertraum" where he impersonated the role of Niki for several years.

He owed his film debut to this operetta as well when the play was filmed with "Ein Walzertraum" (07). One year later followed a second filming of "Ein Walzertraum" (08).

Other cinematical works with Fritz Werner were "Schützenliesel" (09), "Der Graf von Luxemburg" (10), "Johann Strauss an der schönen blauen Donau" (13), "Ihre zwei Buckligen" (20) and "Eine Million Dollar" (21).

One of Fritz Werner's composition was used in the movie "Das lustige Kleeblatt" (33).