Fritz Weidemann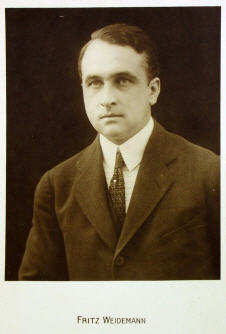 1886 - 1953
.
.
The actor Fritz Weidemann was already an established stage actor who impersonated numerous roles in classic plays as well before he entered the film business.

He made his screen debut in 1911 with "Die keusche Susanne" (11), his co-actors were Albert Paulig, Hella Tornegg and Paul Heidemann.

Afterwards followed a whole serial of movies with the first European movie star Asta Nielsen like "Zu Tode gehetzt" (12), "Der Totentanz" (12), "Wenn die Maske fällt" (13), "Die Filmprimadonna" (13), "Die Sünden der Väter" (13), "Komödianten" (13) and "Jugend und Tollheit" (13).
All these movies were directed by Urban Gad.

After this episode Fritz Weidemann also took part in productions directed by other directors, among them the cult film "Der Student von Prag" (13) with Paul Wegener as well as "Heidelberg, du Feine" (14), "Wer ist Moroly?" (16), "Dschihad - Der heilige Krieg" (16) - this movie was also directed by Fritz Weidemann - "Das grosse Schweigen" (16), "Frauen, die sich opfern" (16) and "Das Tagebuch des Apothekers Warren" (18).

Fritz Weidemann was married with the singer Gertrud Meissner.